Christine de Pizan in her study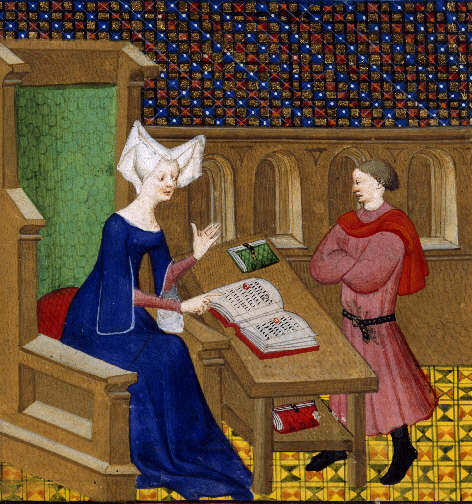 Susan Groag Bell
Journal of Medieval and Humanistic Studies, June, 10 (2008)
Abstract
The image of Christine in her study is enthralling – I expect all who know her work and have seen some of the illustrations in her manuscripts feel the same about it. Ever since I first became involved with her I have been seduced by the idea of this amazing woman in her book-lined cell, expounding for our delight her love of learning and her pleasure in her work.
At the back of my mind as I have thought about Christine in her study has been the idea of "creativity", as well as the question: where does inspiration come from? What leads us to think creatively? Much has been written by scholars of Christine de Pizan about the many authors, such as Boccaccio, Boetheus, and Dante whose works she used and transformed into her own writings. What interests me here is how she created her own particular brand of figures to shape her books and give them their focus. At what point of her compositions did she have the idea of using, for example Reason, Rectitude and Justice in the Cité des dames, or Dame Opinion and Dame Philosophy in L'Advision, or The Cumean Sibyl in Le Chemin de longue Estude and then wove these together into the various transformations of her texts. I am not now thinking of Christine's obvious proto-feminism, I am curious about the times and reasons when Christine's study was helpful for ideas to strike. I believe the arrangement of the room in which she worked had an influence on her creativity.
The term study was already in use as a place for educationand work in the 13th century both in French and in English. The Grand Robert2 defines étude in 1216 as "lieu ou s'exercise cet effort de l'esprit, cette studieuse activité". The Oxford English Dictionarygives the 1309 meaning of "Study" as follows: "A room furnished with books and used for private study, reading, writing, or the like." It is also used by Christine's contemporary Geoffrey Chaucer with this meaning in the Franklin's Tale in 1386. In this article I will describe the physical layout of Christine's study and the disposition of her desk and writing tools and compare these with the manner in which the illustrators of her manuscripts depicted it. But I will also define her study as a place of learning and then of creating something new from the learned material.
Click here to read this article from Journal of Medieval and Humanistic Studies
✉Sign up for our weekly email newsletter!