In this issue, we look at hagiography, the medieval cult of saints, alchemy, visit Prague and visit del Escorial, Spain.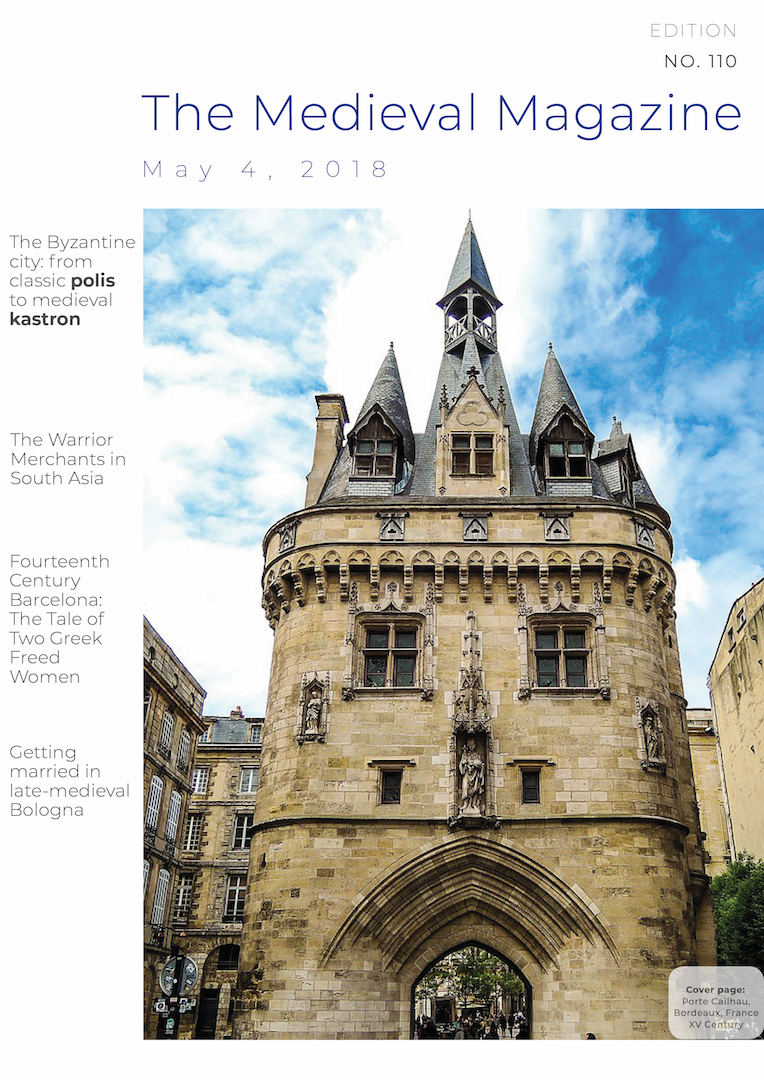 In this issue, we focus on cities. From Barcelona, to Constantinople, to Bologna, we cover marriage, trade, slavery, and foundation stories. Take a trip with us around the world and learn about the hustle and bustle of everyday life in the medieval city.
We look at medieval and modern pilgrimage in this issue, from the perils of travel, to the popular destinations, to souvenirs and salvation.
Spring cleaning! The first issue of the Medieval Magazine with a fresh new face!
In this issue, we look at Norse seasons, medieval beliefs about luck, food and politics in Constantinople, Spanish Easter traditions, and the overlooked life of Catherine of Aragon.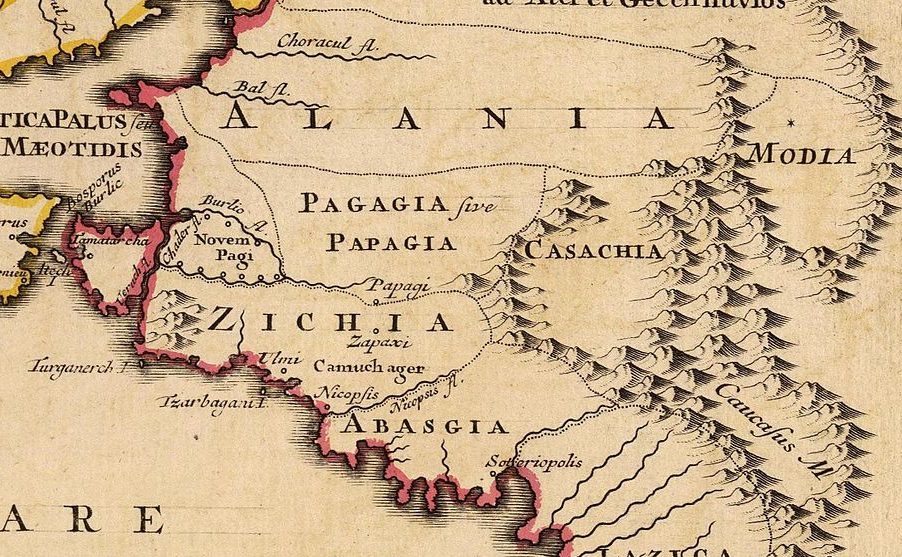 The Early Middle Ages saw many peoples migrating throughout Eurasia. In a talk given earlier this month at the University of Oxford, a Russian archaeologist offered new insights into the Alans.
In this issue…we look at St. Patrick and werewolves, try to understand Icelandic heart eating, take a trip to Cordoba Spain, and cure dog bites the medieval Welsh way!
In this issue, we look medieval cannibalism, dietary advice to a king, animal sex in art, the medieval precinct of St. Paul's, visit Dorchester Abbey, and look at the life of Edward II.
The Valentine's Issue!: Love in the Middle Ages, Teutonic Knights, Tudor medicine, and much, much more!
Banish the January doldrums with our latest issue featuring Sirens, the Bayeux Tapestry, Joan of Arc, and a trip to Ireland.
A behind the scenes look at the British Library's Harry Potter exhibit, book suggestions for your 2018 Reading List, a closer look at the meaning of the Grail, a troubadour's famous manuscript, a look at a new Tudor planner, and a review of King John.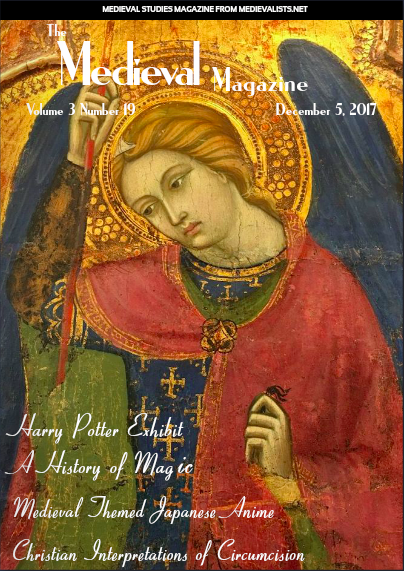 The first of our holiday issues! Christmas cheer, Medieval style! A mulled wine recipe, monastic brewing practices, Japanese Anime's take on Medieval legends, and the Circumcision of Christ. We've got your table talk covered in in this issue, so pass the gravy!
In this issue: 80+ pages of news, books, articles, exhibits, and events, with a focus on the 500th Anniversary of the Reformation!
This November, Medievalists.net is pleased to feature Sharon Connolly's book tour for Heroines of the Medieval World. The book shares the stories of women, famous, infamous, and unknown, who shaped the course of medieval history.
Our 100th Issue and Halloween Edition! This special double issue is 95 pages of scary, spooky, medieval fun. Two magazines in one! Read it if you dare!
We're pleased to announce another book tour underway, with Melita Thomas unveiling her latest: The King's Pearl: Henry VIII and His Daughter Mary on Medievalists.net. The book is a re-examination of Henry VIII's eldest daughter, Mary, and her relationship with her father.
The Anniversary Issue! Medievalists.net turns 9 this September! This issue will celebrate our favourite things about the Middle Ages from travel, to art, fashion, books and events.
Welcome to Autumn! We look at leprosy, travel in the Middle Ages, visit a monastery set in stone, and Sudeley Castle, examine Joan of Arc, and more in this first fall issue!
We're excited to host Nathen Amin's book tour today on Medievalists.net. We're pleased to feature an excerpt for you to enjoy before you get your hands on this fascinating book!
In this issue: Historic selfies with the medieval kings of France, and in Renaissance coins, the Anglo-Saxon fenlands, and how DNA research on chickens is linked to medieval diet and fasting traditions. We visit Anne Boleyn's childhood home and look at the Holy Spirit in female form.
Are you a horror fan looking for something different to shake up your reading list? Kelly Evans might have just what you're looking for in her latest novel, 'The Mortecarni', a medieval zombie mash up set around the time of the Black Death.
In this issue: Vikings, zombies, medieval music, stew, and celebrating 600 years of London's history.
In this issue we tackle National Holidays and the development of Nations, manuscripts at the Getty, and look at courtly festivities and jousting in London. We're also baking bread Viking style, taking a trip to Avignon, and joining the medieval navy!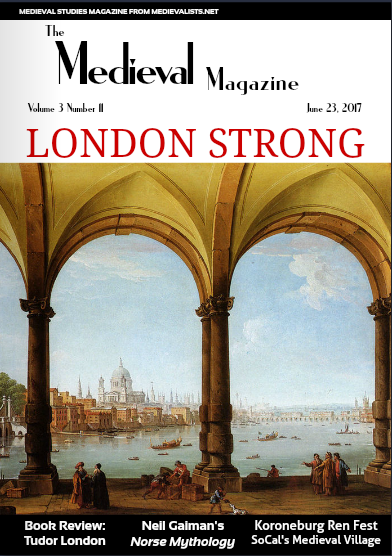 Features: Cool off and kick off summer with Swimming in the Middle Ages & 
Learn about the Valkyries in: The Women of Völsunga Saga
Exhibits: Illuminating Women in the Medieval World at the Getty
Books: Review of Everyday Life in Tudor London
Travel: Visiting SoCal's Koroneburg Renaissance Festival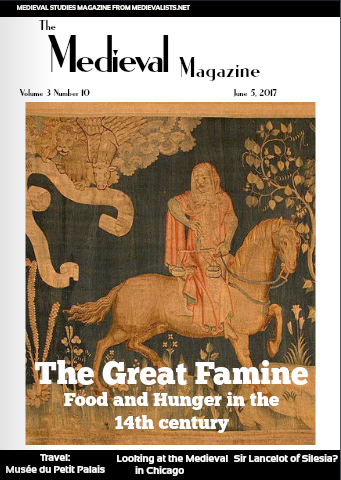 In this issue: The Great Famine – Food and Hunger in the 14th Century Feature: 10 Things to Know About the Great Famine Exhibits: Saints…
In this issue: A Man for All Centuries: The Changing Myth of King Arthur, Guy Ritchie's King Arthur comes to the big screen!, Medieval Minded with author Guy Gavriel Kay, Books: Harold: The King Who Fell at Hastings, Travel: A hidden medieval garden in Southern France