When I travel, I immediately go hunting for anything and everything medieval. I didn't have to look far on my first day in Portugal's capital. Above Lisbon's skyline of colourful tiled houses and red roofs lies Castelo de São Jorge, a dominating, but beautiful, 11th century fortress in the heart of this vibrant city. If you're planning out your "medieval places-to-see" check list for a visit here, this has to be near the top.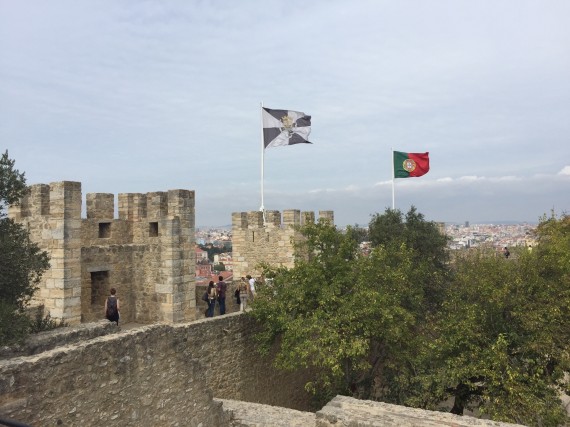 Since moving to London 2 years ago, I've been tremendously blessed to travel more than I ever have in my entire life. A flight to any European capital can be arranged for a fraction of the price a trans-atlantic ticket would normally cost me flying from Toronto. I've definitely taken advantage of this in spades, especially in 2015. Lisbon is my final stop this year as I take a hiatus from scurrying around Europe. Lisbon's warmth, charm and the friendly Portuguese locals made this adventure a wonderful way to end a bustling, travel filled year.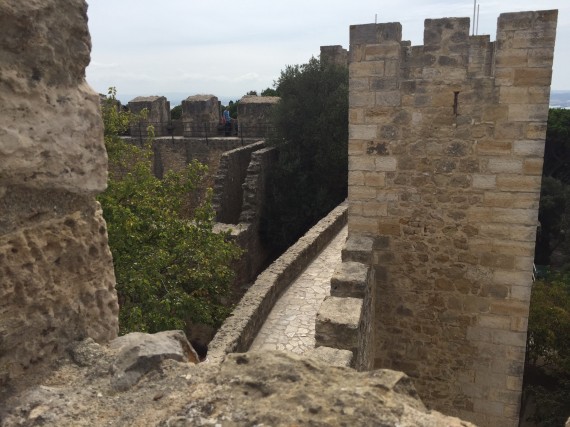 Background: Medieval and more…Castelo de São Jorge While São Jorge is a Moorish castle, some of the fortifications date to the 2nd century. Archeologists found evidence that there were people here as far back as the 6th century BC; Celts, Phoenicians, Carthaginians and Greeks inhabited this area. There is an archaeological site on the castle grounds that you can visit, but sadly, this appeared to be closed while I was there. Lisbon was once a Roman municipality so the site of the castle was used by Romans, later by Visigoths, and finally, it was rebuilt by Muslim Berbers in the 10th century. During the peak of the Reconquista, São Jorge was freed from Moorish rule by Afonso I of Portugal (1109-1185). Afonso was the first King of Portugal after winning independence from Galicia in 1139. Prior to this, Portugal was a county and his father was the Count of Portugal until his death in 1112 when Afonso was only 3 years old.
On October 25, 1147, Afonso won a decisive battle, The Siege of Lisbon, one of the few Christian victories of the Second Crusade. Afonso received help from Crusaders travelling to the Holy Land who were stranded in Portugal due to poor weather. They helped Afonso expel the Moorish overlords from the city and lay siege to the castle. After the fall of Lisbon to the Crusaders, some of them stayed behind and began the famous Anglo-Portuguese Alliance. Although the Alliance wasn't solidified formally until 1386, the beginnings of this centuries long friendship can be traced to the assistance Afonso received from some English Crusaders during this important battle. After Lisbon became Portugal's capital in 1255, Castelo São Jorge became the official home of Portuguese monarchs, the Alcáçova. It's undergone numerous renovations; in the 14th century, it underwent extensive work and additions, including the creation of an outer wall. The castle was dedicated to St. George by João I of Portugal (1357-1433) after he married the English princess, Philippa of Lancaster (1360-1415). Over the course of the 15th century, the castle went from being a primarily fortified military structure to a formal royal residence. Cool fact: Famous Portuguese explorer, Vasco de Gama (1460s-1524) was received at Castelo São Jorge by King Manuel I 'The Fortunate' (1469-1521) after her returned from discovering the sea route to India in 1498!
Turmoil and Tumult: The Early Modern Castle In the 16th century, the castle began to fall apart, especially after an earthquake in 1531 substantially damaged it. There was a brief attempt to rebuild the castle as a royal residence again, in the mid-1500s, but it was turned into a military/prison establishment after the political crisis of the 1580s when King Sebastian (1554-1578) died in the Battle of Alcácer Quibir (The Battle of Three Kings). This prompted a period of unrest as various claimants vied for the throne. The chaos ultimately led to Spain ruling Portugal for the next 60 years. Work continued on the castle well into the 17th century with a Soldier's Hospital being added. In the devastating earthquake of 1755, in which most of Lisbon was destroyed, the castle was again badly damaged. Luckily, it was salvaged and then used by a charitable organisation to educate poor children. It was also the site of the first geodetic observatory in Portugal, in one of the castle's remaining towers, now known as the Observatory Tower.
The Castle Today Currently, the castle includes the ruins of the royal residences, the walls and 11 towers, gardens, a defunct moat, and a square overlooking Lisbon. You can walk along its medieval walls from tower to tower – just be careful, the barriers are rather low. I took some amazing shots of the city from this vantage point; it was breathtaking and a wonderful way to be introduced to Lisbon. I spent about an hour and a half walking along the walls and the castle grounds enjoying the sweeping view of the city below. Castelo São Jorge has been well preserved and maintained and is a very busy site, especially on a sunny day like the one I was fortunate enough to have for my visit. This is important because most of your time is spent outdoors so I wouldn't recommend coming here if the weather is poor. Until November 1st, the hours are extended and you can roam around the castle until 9pm. I came here during the day but would have loved to see the castle at night, so if you're in Lisbon between March 1 -November 1, an evening visit might be in order. You can see the castle lit up every night from the city below and it's lovely. From November 1 to Feb 28, the castle closes at 6pm. The cost of a regular single adult ticket is €8.50 (£6.30/$9.65USD) and there  are numerous discounted tickets for students, tour groups, people with disabilities, and seniors. AMEX, VISA, and MasterCard are all accepted forms of payment here. Children under 10 and residents of Lisbon are free. When you're done touring the castle grounds, you can pop into the Castle Café (open until 9pm) or eat traditional Portuguese food at the restaurant, Casa do Leão, which is open late, until 11pm.  Castelo São Jorge was an incredible way to kick off my visit to this lovely city and highly recommended as a place to see while you're in Lisbon. ~Sandra Alvarez Click here for more information about Castelo São Jorge
✉Sign up for our weekly email newsletter!