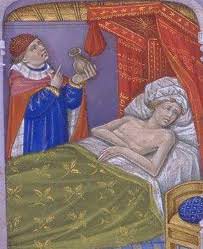 Integrative Medicine: Incorporating Medicine and Health into the Canon of Medieval European History
Monica H. Green (Arizona State University)
History Compass: 7, no. 4 (June 2009), 1218-45
Abstract
Hitherto peripheral (if not outright ignored) in general medieval historiography, medieval medical history is now a vibrant subdiscipline, one that is rightly attracting more and more attention from 'mainstream' historians and other students of cultural history. It does, however, have its particular characteristics, and understanding its source materials, methods, and analytical limitations may help those not trained in the field better navigate, explore and potentially contribute to its possibilities for illuminating the intersections of medicine and health with other aspects of medieval culture. Although this article focuses primarily on western Europe, many of its observations are also relevant to the Islamic world and Byzantium precisely because all three cultures shared many of the same intellectual traditions and social structures. The attached bibliography serves as a general introduction to the current state of the field. 
At the beginning of the twenty-first century, studies surveying the general landscape of medieval Europe continue to give short shrift – or ignore outright – topics related to disease, health, and disability and the learnedand practical traditions of knowledge associated with them. For example,in a survey of literacy and the impact the cultures of writing had on medieval society, medicine does not merit even a passing reference, despite its standing as one of three higher faculties in many universities. Similarly, a general collection of essays on medieval culture has nothing beyond a piece on the division of the corpse, a very minor element of medieval understandings and practices of the body. Although one wouldnot expect the material and cultural concerns of medical history to makemuch headway in traditionally framed projects like the New Cambridge Medieval History (where not a single volume has a chapter devoted to medicine or health aside from the oddly coupled 'Plague and Family Life' in the fourteenth-century volume), such resistance to incorporating medical history is characteristic even of women's and gender history, where dedicated bibliographies have been published for over two decades.
Click here to read this article from History Compass
✉Sign up for our weekly email newsletter!