The Economics of Lady Mede's Agency in The Vision of Piers the Plowman
David W. Sweeten, Department of English, (Ohio State University)
Summary by Medievalists.net
This paper examines the role of Lady Mede in Langland's Piers the Plowman. Lady Mede's role is complicated by her being a sexually commodified object in Langland's text. Lady Mede is used by many people. Her relationship and the exchange of mede – a mercantile connotation, demonstrates that she has a double meaning in the text. There is a  semantic debate over the definition of mede; its meaning and has exclusive and opposed definitions. Mede involves a gift bestowed for goods or services. The granting of titles can help maintain social order and loyalty among vassals yet it can also be used as bribery.
Allergorical representation of mede in the text – other characters in the book use Lady Mede for their own ends and as a medium of exchange. It represents an ability to purchase items to circumvent legal and proper parameters – the morality of the exchange does not come from the mede itself, but from the person making the exchange. Her importance in the text is focused on how she is used, not her social standing. This relation reduces her agency because she is used as a means to an end, 'a tool for no purpose beyond the job for which she is made'. Lady Mede as a sexual commodity is used by others as a means of exchange. She adopts a new tactic to regain some agency by speaking for herself – she seizes control of her sexually commodified state by using the same tactics others, like Conscience, have used against her. Lady Mede provides a series of examples where mede is used for positive social stability and trade; she advocates herself as the medium of exchange. Her arguements prove so effective that they are better than Conscience's. However, the full impact of her agency is debateable because it is almost completely refuted after she gives her argument. The king is swayed by the counter argument made by Conscience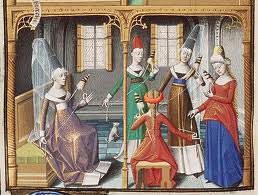 that all mede is socially disruptive and then dismisses Lady Mede.
Even though it is brief, she is able to provde a sample of female agency in the text. This text highlights the inversion of gender roles – a woman with agency involved in economic activity. Lady Mede also represented a growing trend for middle class women to be involved in land ownership/purchase. Alice Perrers is often invoked as the image of Lady Mede because she did many of the things Lady Mede did. By Lady Mede co-opting in this process of exchange, and controlling herself, it becomes a problem in that it inverts the established social order.