Millstones for Medieval Manors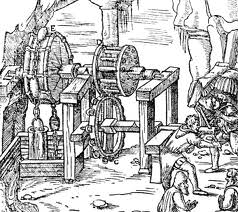 Farmer, David L.
Agricultural History Review, Vol.40:2 (1992)
Abstract
Demesne mills in medieval England obtained their millstones from many sources on the continent, in Wales, and in England. The most prized were French stones, usually fetched by cart from Southampton or ferried by river from London. Transport costs were low.
Millstone prices generally doubled between the early thirteenth century and the Black Death, and doubled again in the later fourteenth century. With milling less profitable, many mills in the fourteenth century changed from French stones to the cheaper Welsh and Peak District stones, which Thames valley manors were able to buy in a large number of Midland towns and villages. Some successful south coast mills continued to buy French stones even in the fifteenth century.
Click here to read this article from Agricultural History Review