Embodying Mysticism: The Utilization of Embodied Experience in the Mysticism of Italian Women,
Circa 1200-1400 CE
Esposito, Elizabeth A.
M.A. Thesis, University of Florida, August (2004)
Abstract
The purpose of this thesis is to examine the ways in which medieval women mystics gained agency and authorial voice in the face of social patriarchal domination through the practice of mysticism. I selected a cross section of women mystics over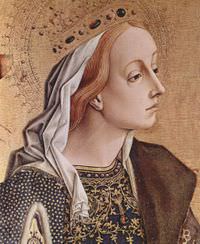 two centuries within the area of central Italy, including St. Clare of Assisi, the beatified Angela of Foligno, and St. Catherine of Siena. I employed a variety of methods in this study, including literary rhetorical critique, socio-historical critique, and essentialist feminist theory. I performed close readings of primary texts and I drew from feminist and social commentary in secondary works. With this multifaceted literary, historical, and feminist approach, I hope to expand the concepts of agency and mysticism in the medieval period.
Click here to read this thesis from the University of Florida