Deo gratias anglia, redde pro victoria!
He sette a sege, forsothe to say,
To Harflu toune with ryal aray,
That toune he wan and made afray,
That France shall rewe tel domesday,
Deo Gratias
~The Agincourt Carol, 15th century, anonymous.
600 years ago, the bells of Westminster Abbey rang out as word arrived in London that Henry V had defeated the French in Agincourt. 600 years later to the very day, the bells pealed out again to commemorate a medieval battle where the English were vastly outnumbered but still came home victorious.
Agincourt 600: An Insider's View
The service didn't start until noon, but I arrived at 10am to queue early so I could get a good seat. It was a wise decision; the line quickly grew and snaked around the abbey. I managed to get a front row seat in the nave close to the choir. This is not an experience one has everyday, so I made sure I was able to take it all in from the best vantage point possible.
Once we were seated, knights and other dignitaries, such as the Duke and Princess of Kent were lead inside. In fur lined cloaks, with gleaming medals, military regalia and spurs on their heels, the knights marched into the choir in an impressive display.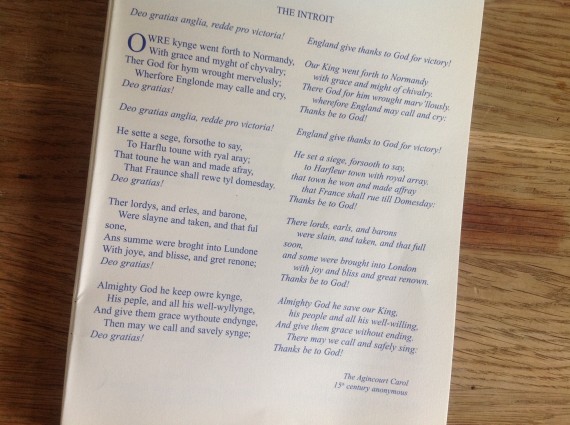 The service opened fittingly with The Agincourt Carol, an anonymous, inspiring song written in the fifteenth century that recounts Henry V's victory over the French. After, we listened to a spirited reading from Shakespeare's Henry V by veteran actor Robert Hardy, CBE. Hardy, who is recognised by younger generations as Cornelius Fudge, the Minister of Magic in the Harry Potter films, also played Henry V in the 1960 television adaption, Age of Kings, as well as on the stage. Those roles blossomed into a lifelong interest in medieval warfare. Hardy is an expert on the medieval longbow and has written several books on the subject. Another well known face was medieval historian, Anne Curry, who gave a reading from Ephesians 4: 1-7. Curry has written extensively on Agincourt and medieval warfare. She is currently the Dean of the Faculty of Humanities at the University of Southhampton.
This story shall the good man teach his son;
And Crispin Crispian shall ne'er go by,
From this day to the ending of the world,
But we in it shall be remembered-
We few, we happy few, we band of brothers,
For he to-day that sheds his blood with me
Shall be my brother…
~Henry V (Act IV, Scene 3)
One of my favourite moments was the impassioned Saint Crispin's Day speech delivered by The Royal Shakespeare Company's, Sam Marks. Dressed in full medieval regalia, complete with blood spattered face and king's crown, he became Henry V. He walked up and down the nave, imploring the audience to fight with him. Out of the corner of my eye, I caught an elderly gentleman, wistfully mouthing the words of the speech along with him. It was an outstanding and emotional performance. Another dramatic moment was the the solemn procession down the nave holding Henry V's 600 year old sword, which was then placed on the altar beside his helmet.
Westminster Abbey held a special place for Henry V; he was crowned there on April 9, 1413. Before he set off for France in 1415, he gave instructions that he was to be buried at Westminster Abbey, and he was, seven years later on November 7, 1422. His tomb was blessed during the comparative service, and flowers were placed upon it.
I was extremely fortunate to attend this special service. It was everything I'd imagined it would be: stirring, spectacular, full of grandeur and tradition. The pageantry, readings and performances made it a dazzling event. As we filed out at the end of the service, the bells of the abbey rang out and I thought that in this very place, 600 years ago, Londoners stood and heard those same bells signalling their victory. It was a little surreal, but I was honoured to be a part of it and witness this rousing tribute to one of the most important battles for England of the Middle Ages.
~Sandra Alvarez
Robert Hardy and Judi Dench in the 1960 BBC television adaptation of Henry V, An Age of Kings.