Genghis Khan and the Making of the Modern World
Author: Jack Weatherford
Publisher: Broadway Books (March 22, 2005)
Summary
The Mongol army led by Genghis Khan subjugated more lands and people in twenty-five years than the Romans did in four hundred. In nearly every country the Mongols conquered, they brought an unprecedented rise in cultural communication, expanded trade, and a blossoming of civilization. Vastly more progressive than his European or Asian counterparts, Genghis Khan abolished torture, granted universal religious freedom, and smashed feudal systems of aristocratic privilege. From the story of his rise through the tribal culture to the explosion of civilization that the Mongol Empire unleashed, this brilliant work of revisionist history is nothing less than the epic story of how the modern world was made.
Thomas Becket: Warrior, Priest, Rebel
Author: John Guy
Publisher: Random House; 1st Us Edition edition (July 3, 2012)
Summary
A revisionist new biography reintroducing readers to one of the most subversive figures in English history—the man who sought to reform a nation, dared to defy his king, and laid down his life to defend his sacred honor Becket's life story has been often told but never so incisively reexamined and vividly rendered as it is in John Guy's hands. The son of middle-class Norman parents, Becket rose against all odds to become the second most powerful man in England. As King Henry II's chancellor, Becket charmed potentates and popes, tamed overmighty barons, and even personally led knights into battle. After his royal patron elevated him to archbishop of Canterbury in 1162, however, Becket clashed with the King. Forced to choose between fealty to the crown and the values of his faith, he repeatedly challenged Henry's authority to bring the church to heel. Drawing on the full panoply of medieval sources, Guy sheds new light on the relationship between the two men, separates truth from centuries of mythmaking, and casts doubt on the long-held assumption that the headstrong rivals were once close friends. He also provides the fullest accounting yet for Becket's seemingly radical transformation from worldly bureaucrat to devout man of God. Here is a Becket seldom glimpsed in any previous biography, a man of many facets and faces: the skilled warrior as comfortable unhorsing an opponent in single combat as he was negotiating terms of surrender; the canny diplomat "with the appetite of a wolf" who unexpectedly became the spiritual paragon of the English church; and the ascetic rebel who waged a high-stakes contest of wills with one of the most volcanic monarchs of the Middle Ages. Driven into exile, derided by his enemies as an ungrateful upstart, Becket returned to Canterbury in the unlikeliest guise of all: as an avenging angel of God, wielding his power of excommunication like a sword. It is this last apparition, the one for which history remembers him best, that will lead to his martyrdom at the hands of the king's minions—a grisly episode that Guy recounts in chilling and dramatic detail. An uncommonly intimate portrait of one of the medieval world's most magnetic figures, Thomas Becket breathes new life into its subject—cementing for all time his place as an enduring icon of resistance to the abuse of power.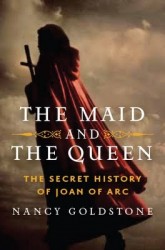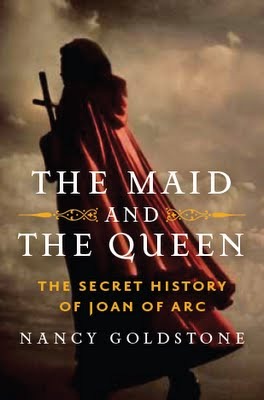 The Maid and the Queen: The Secret History of Joan of Arc
Author: Nancy Goldstone
Publisher: Viking Adult (March 29, 2012)
Summary
The untold story of the extraordinary queen who championed Joan of Arc. Politically astute, ambitious, and beautiful, Yolande of Aragon, queen of Sicily, was one of the most powerful women of the Middle Ages. Caught in the complex dynastic battle of the Hundred Years War, Yolande championed the dauphin's cause against the forces of England and Burgundy, drawing on her savvy, her statecraft, and her intimate network of spies. But the enemy seemed invincible. Just as French hopes dimmed, an astonishingly courageous young woman named Joan of Arc arrived from the farthest recesses of the kingdom, claiming she carried a divine message-a message that would change the course of history and ultimately lead to the coronation of Charles VII and the triumph of France. Now, on the six hundredth anniversary of the birth of Joan of Arc, this fascinating book explores the relationship between these two remarkable women, and deepens our understanding of this dramatic period in history. How did an illiterate peasant girl gain access to the future king of France, earn his trust, and ultimately lead his forces into battle? Was it only the hand of God that moved Joan of Arc-or was it also Yolande of Aragon?
Blood Will Tell: A Medical Explanation for the Tyranny of Henry VIII
Author: Kyra Cornelius Kramer
Publisher: CreateSpace Independent Publishing Platform (August 20, 2012)
Summary
With his tumultuous love life, relentless pursuit of a male heir, and drastic religious transformation, England's King Henry VIII's life sounds more like reality television than history. He was a man of fascinating contradictions—he pursued a woman he loved for almost a decade only to behead her less than four years after their marriage. He defended Catholicism so vigorously that he was honored as Defender of the Faith, but he went on to break with Rome and have himself declared Supreme Head of the Church of England. Worst of all, the King who began his reign praised as "hero" and "lover of justice and goodness" ended it having metamorphosed into such a monster that he was called the "English Nero." What could have caused these incredible paradoxes? Could there be a simple medical explanation for the King's descent into tyranny? Where do the answers lie? Blood Will Tell.
Francis of Assisi: The Life and Afterlife of a Medieval Saint
Author: Andre Vauchez
Publisher: Yale University Press; 7.3.2013 edition (May 14, 2013)
Summary
In this towering work, André Vauchez draws on the vast body of scholarship on Francis of Assisi produced over the past forty years as well on as his own expertise in medieval hagiography to tell the most comprehensive and authoritative version of Francis's life and afterlife published in the past half century. After a detailed and yet engaging reconstruction of Francis's life and work, Vauchez focuses on the myriad texts—hagiographies, chronicles, sermons, personal testimonies, etc.—of writers who recorded aspects of Francis's life and movement as they remembered them, and used those remembrances to construct a portrait of Francis relevant to their concerns. We see varying versions of his life reflected in the work of Machiavelli, Luther, Voltaire, German and English romantics, pre-Raphaelites, Italian nationalists, and Mussolini, and discover how peace activists, ecologists, or interreligious dialogists have used his example to promote their various causes. Particularly noteworthy is the attention Vauchez pays to Francis's own writings, which strangely enough have been largely overlooked by later interpreters. The product of a lifetime of study, this book reveals a historian at the height of his powers.