Looking a medieval gift horse in the mouth. The role of the giving of gift objects in the definition and maintenance of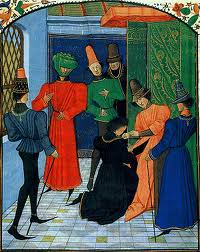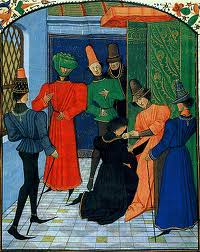 the power networks of Philip the Bold
Chattaway, Carol M.
BMGN – Low Countries Historical Review, Vol. 114, No. 1 (1999)
Abstract
A horse's age is commonly gauged by the state of its teeth. An old proverb, according to St. Jerome common even in the fifth century, warns against looking a gift horse in the mouth2. That is, one should not question the quality or implications of a gift. I propose in this article, however, to ignore the proverb and explore what lay behind the extensive giving of gift objects by Philip, nick-named the Bold, Duke of Burgundy from 1363 to his death in 14043. To do this, I shall focus in particular on the insignia of the Order of the Golden Tree4, which Philip gave as New Year presents in 14035. In this context, I have taken 'gift' to mean something freely given, or given without any precisely defined return (whether of cash, goods or service) being specified in advance, and which does not appear to be part of a contract or of a household or family responsibility6. Gifts were, however, traditionally reciprocal, and while reciprocity in kind (that is, by means of an item of broadly comparable value) might be expected from a peer, it could not be from someone of a lesser rank. Gift-giving was thus used both as an act of power in itself, and to create obligations of service and dependency among recipients7. The arrangements for such reciprocity might, however, be secret, informal or unspecific, and a gift, particularly of a manufactured object, the only evidence of it to survive. Analysing Philip's gifts of objects therefore offers a possible means of identifying otherwise invisible networks of his clients.
Click here to read this article from BMGN
✉Sign up for our weekly email newsletter!