Papal Intervention In England in the Thirteenth Century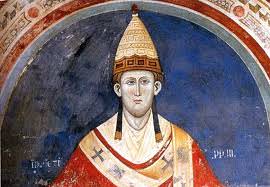 Mendell, Freeman (University of Houston)
M.A. Thesis,University of Houston (1992)
Abstract
As Western Europe was entering the thirteenth century, a very strong willed, opinionated, driven, devout, narrowly focused individual had just assumed the papal throne. Innocent III did not bring many new ideas to the papacy, but he did bring an ability to translate ideas and philosophies written about by popes and canonists that had preceded him into coherent Church policy and law. He began to implement these policies and attempted to mold the countries of Western Europe into fiefdoms of the Church, with the pope as their liege lord.
The European monarch who became the primary target of this attempt at papal domination was King John of England. John came to power the year following Innocent III and died three months after Innocent. These two men fought a titanic struggle over papal prerogatives and the rights of kingship as it relates to the Church. This conflict established a legacy that led the Church into a role it was not ready to fulfill.
Introduction: As the thirteenth century began, the Catholic Church and England were reaching an impasse. The papacy was being held by men who increasingly believed that the Church should be the dominate party in the relationship between Church and state. The basic beliefs of the people and the monarchs remained the same, but the men who were governing the Church were changing. God was still the dominate force in everybody's life. The conflict was coming over who was to speak for God and who was to be responsible for the clerical appointments in England. The new pope, Innocent III was putting forth some new ideas which were to attempt to alter the balance of power between the secular governments of Europe and the Church. King John had just stumbled into the monarchy and was very happy with the traditional relationship that the English monarchy had had with the Church since the time of Henry I. The Church was on the verge of making significant changes in the way that the ecclesiastical government was organized. This battle became particularly intense during the early part of the thirteenth century due to the personalities of the central figures.
Click here to read this thesis from the University of Houston