Was this magic healing or protective? Did it aim to safeguard the living or conjure the dead? Who were the recipients of such magical rites — and who was responsible for performing them?
Throughout the Middle Ages – especially the later Middle Ages – ideas of magic played a large part in the formation of deviant sexual behaviours and it was believed that magic played a main role in sexual malfunctions and abilities.
Little by little, out of the old conviction —pagan and Christian— of evil interference in atmospheric phenomena evolved the belief that some people may use malign sorcery to set off whirlwinds hail, frosts, floods and other destructive weather events.
This essay, however, looks to explore, not this seductive form of charm magic, but rather its opposite, ie charm magic that prevents the consumption of a relationship, or that makes a fruitful union impossible.
The fool is one of the most popular and stable character types throughout cultures and times. This is especially true of medieval Europe. The fool, sometimes a jester, sometimes a clown or a trickster, is always recognizable through his abnormal appearance.
Within the orbit of witchcraft, what is the relationship between sexuality, heresy, and diabolism?
Hidden in the manuscripts of illicit magic we may find a hitherto untreated practical literature of dream divination…this literature sets out to provoke specific kinds of dreams.
Some spooktacular reads to celebrate Medieval Halloween!
If we are to believe any number of histories, spiritual life in medieval Scandinavia, and especially the conversion to Christianity, is readily summarized: paganism collapsed against Christian conversion efforts in dramatic fashion at a meeting of the Alþing, or when a missionary bore hot iron, or an exiled king had a deep religious experience, or when a pagan revolt was finally overcome, and so on.
People learned how to "tie up a portion of lightning" only recently. We have no information aboutany experiments of medieval scientists with lightnings, and even the fundamental dictionary of thehistory of science by Mayerhöfer is silent about it.
When taken collectively those sources imply that seiðr was a kind of operative magic which – among other things – enabled its practitioners to foresee the future, heal the sick, change weather conditions, reveal the hidden, shift into animal form or travel to other worlds in a state of trance.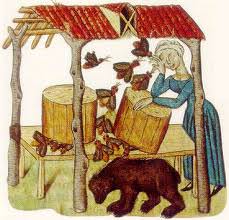 At the same time, however, their differing responses to the remedy attest both to the variation of beekeeping practices and the multivalence of Wið Ymbe itself. The fact that two beekeepers interviewed within two days and two hundred miles of each other can respond differently to the charm's advice on swarms suggests that we reevaluate unilateral assertions regarding what the text might have meant across the hundreds of years that we now know as the Anglo-Saxon period.
Our knowledge of Anglo-Saxon charms comes from surviving magico-medical manuscripts as well as some liturgical manuscripts dated from the tenth to the twelfth centuries.
Did witches once soar through the night sky on broomsticks? Or were they hallucinating after eating or touching certain plants? Angelika Börsch-Haubold explains how modern pharmacology helps us to understand the action of many toxic plants – some of which are still used in medicine.
A witty, not to say mischievous, Viking archaeologist has defined the first law of runic studies as 'for every inscription there shall be as many interpretations as there are runologists studying it.'
Between 1615 and 1620, Benedetto Blanis (c.1580-c.1647), a Jewish scholar and businessman in the Florentine ghetto, sent 196 letters to Don Giovanni dei Medici (1567-1621), an influential member of the ruling family.
Although Joan's trial took place in France and The Malleus Maleficarum was published in Germany, they are suitable for comparison because this text became the definitive manual for witchcraft inquisitors across Europe.
Conventional wisdom said medieval Christian graves – the plain remains of the pious – held little interest for archaeologists. Now cemetery excavations have revealed an extraordinary world of fear, superstition, care and mourning. Roberta Gilchrist reports on a major new study.
The Czech Renaissance man of letters Vaclav Hajek of Libocany explained the representations of kingfishers and half naked bathmaidens that he saw painted on some Prague buildings, as records of saucy affairs from the life of the King Bohemia Wenceslas IV.
While reading Medieval texts, we often times discover special concoctions made of various ingredients in order to cure certain diseases and illnesses.
This study examines thirteen English vernacular medical texts, dating from approximately the tenth to the fifteenth centuries, for evidence of magiferous healing plants.
One of the specific aspects of witchcraft that has seen considerable attention in recent years is its relationship to gender. Both Bailey and Broedel have made admirable contributions to uncovering the historical development of a feminine witch concept.
While all the separate components of witchcraft—harmful sorcery or maleficium, diabolism, heretical cultic activity, and elements drawn from common folklore, such as ideas of nocturnal flight—were widely believed to exist throughout much of the medieval period, only in the fifteenth century did these components merge into the single concept of satanic witchcraft.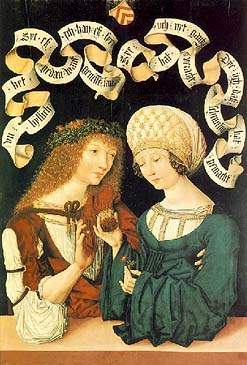 My purpose in writing this article is to expose a different view of romantic relationships that exist in medieval literature, a view that is in opposition to courtly love.
My paper attempts to explore this medieval distinction between the magical and the Christian use of images.