Representations of Jerusalem in Christian-European Maps from the 6th to the 16th Centuries: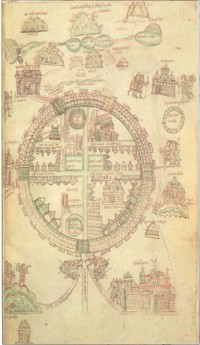 A Comparative Tool for Reading the Message of a Map in its Cultural Context
Siew, Tsafra (The Hebrew University of Jerusalem)
Center for the Study of Italian Culture (2008/09)
Abstract
Modern maps of Jerusalem, according to the conventions of modern cartography, are conventional abstract depictions of the city, dotted with cartographic signs and symbols, accompanied by a legend to decipher them. However, the maps of Jerusalem did not always look that way. Until the end of the sixteenth century, when the cartographic depiction as we know it today started to develop in the maps of Jerusalem, they were drawn as pictorial images, which differed in their style and in the image they showed. When looking at different maps of Jerusalem created in the Middle Ages or in the Early Modern Period, we actually see different cities. Sometimes the maps depicted things that did not exist in reality: many churches and crosses and no
crescents, at a time when Jerusalem was under Muslim rule; a huge church of the Holy Sepulchre and tiny mosques on the Temple Mount; European styled buildings within the walls of the city; a perfectly round city, when in fact it is not. Looking at these maps, it is obvious that they did not always try, or even mean, to describe the city as it existed in the days of the mapmaker, nor were they created to enable the visitor to find his way in the city. What, then, were they created for? What are maps if not a geographical depiction of a place?
Click here to read this article from Center for the Study of Italian Culture