Martinus Polonus' Chronicle of the Popes and Emperors: a Medieval Best-seller and its Neglected Influence on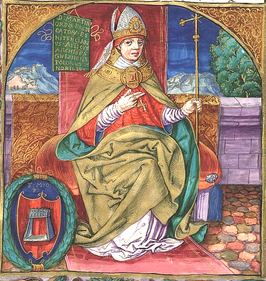 Medieval English Chronicler
Ikas, Wolfgang-Valentin
The English Historical Review, Vol. 116, No. 466 (2001)
Abstract
In 1278 Martinus Polonus (Martinus Oppaviensis or Martin ofTroppau as he is better known on the continent), a Dominican friar formerly holding the office of penitentiary at
the papal Curia, was appointed Archbishop of Gnesen (Gniezno) in Poland by Pope
Nicholas III (1277-80); however, he never saw his bishopric as he died at Bologna while on his way to take up his new duties. The enormous fame Martin enjoyed toward the end
of his life and, even more notably, after his death throughout the later Middle Ages, does
not rest on this remarkable career but, rather, on his having composed the Chronicon pontificum et imperatorum,' a catalogue of popes and emperors from the birth of Christ to the accession of Pope Nicholas III, which was 'extremely popular' and was said to have been copied by the hundred. The chronicle's circulation in England has never been the subject of a detailed examination. In the general books on English historical literature, only six historical works at most on the Middle Ages are mentioned as influenced by Martin, which, as we will see, falls short of the sum total. It therefore seems appropriate to look more closely at various aspects of Martin's success, especially the extent and reasons for the popularity of his work in England.
Click here to read this article from The English Historical Review