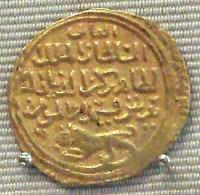 Legitimizing a low-born, regicide monarch. The case of the Mamluk sultan Baybars and the Ilkhans in the 13th century
By Denise Aigle
Representing power in ancient Inner Asia : Legitimacy, transmission and the sacred, Charleux, I., Hamayon, R. and Delaplace, G. (eds), (Western Washington University, 2009)
Introduction: Between the eleventh and thirteenth centuries, Syria-Palestine and Egypt were the scene of a number of political upheavals, most memorably the arrival of the Crusaders who seized Jerusalem, the secondholiest city of Islam, in 1099. That event traumatized the Muslim community. In 1187 Saladin, the famous Ayyubid ruler, who became a paragon of chivalry in the West, recaptured Jerusalem from the Crusaders and, in Muslim eyes, restored the honour of Islam. The Ayyubid dynasty started a long tradition of enlisting into its armies great numbers of Turkish military slaves, the Mamluks (mamlūk), from Dasht-i Qipčaq. These Turks were nomads of the steppes north of the Black Sea. The Ayyubids had ample opportunity to acquire them as slaves, as children were sold at a very low price. The Mamluks, also known as Baḥriyya, were then enlisted into the personal guards (ḥalqa) of the Ayyubid rulers.
After Saladin's death in 1193, his states were divided among his brother and his sons. Dissension within the Ayyubid family weakened their power and contributed to the emergence of the Mamluk sultanate and the rise to power of the future Sultan Baybars, 'Lord Tiger.'
The aim of this article is to trace Baybars' extraordinary fate. Acquired by a slave merchant on the Qipčaq steppes, he was first purchased as a slave soldier by the amir Rukn al-Dīn al-Bunduqdārī, then bought from him by the Ayyubid sultan al-Malik al-Ṣālīḥ Najm al-Dīn Ayyūb (r. 1240-1249), who made him a member of his personal guard. Baybars eventually gained the sultanate himself in 1260. This remarkable feat made a great impact, and Baybars subsequently became a hero of Arabic popular literature.
Click here to read/download this article (PDF file)