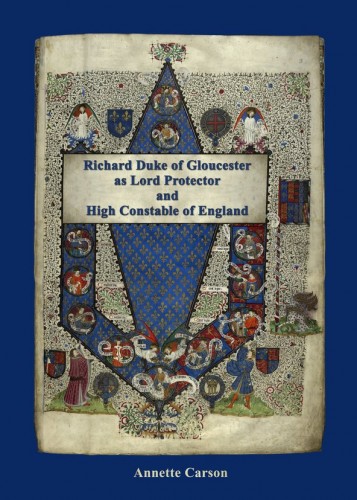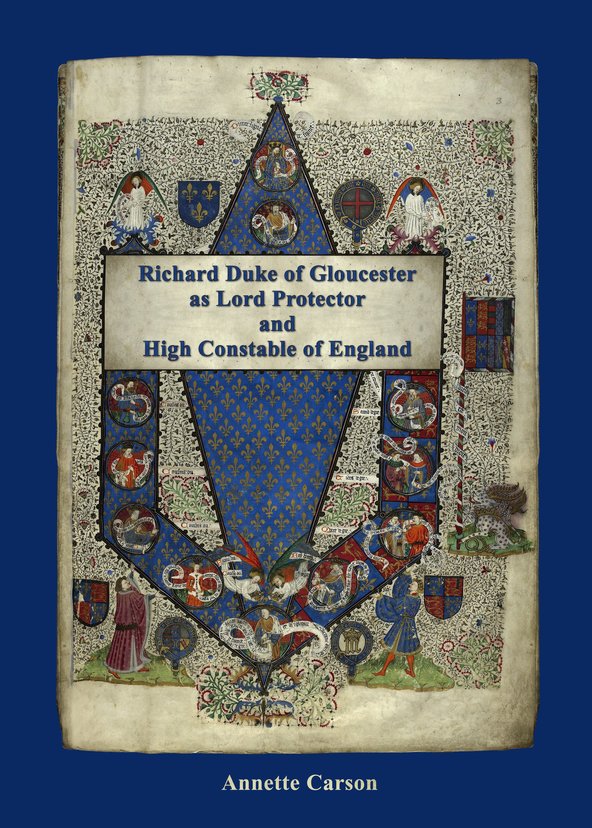 Richard Duke of Gloucester as Lord Protector and High Constable of England
By Annette J. Carson
Published in 2015
Richard, Duke of Gloucester (later Richard III) was appointed to a number of the highest offices of the realm by his brother King Edward IV, of which one of primary importance was Lord High Constable ofEngland. He retained this office in 1483 while concurrently designated Protector and Defender of the Realm during the minority of Edward V.
For a crucial few weeks Gloucester combined in his person two offices whose significance has been consistently misunderstood and overlooked. In effect he held overarching responsibility for defence ofEngland against enemies from outside and rebels within, while exercising summary jurisdiction over the crime of treason.
Part I addresses the origins and development of the separate offices ofProtector and Constable, considering their principal 15th-century incumbents and their place in the constitutional framework. It summarizes the laws governing the crime of treason, and indicate show successive monarchs, notably Edward IV, placed increasing reliance on the High Constable and his Court to deliver judgement and sentence in such cases.
Part II considers many misapprehensions (then and now) relating to Gloucester's responsibilities and powers, and examines the principal events during his protectorate in the context of both offices, viewed from the perspective of 15th-century precedent rather than 16th-century hindsight.
Ten appendices of original documents are included, several previously unpublished:
Appendices I-VIII are transcriptions and translations of all extant High Constable grants of the Yorkist period;
Appendix IX is a full transcription of King Edward IV's 1483 ordinances for the household of the Prince of Wales;
Appendix X is a full transcription of Chancellor John Russell's speech drafted for the opening of Edward V's Parliament.
Excerpt: During Richard's protectorate he was responsible, as far as we know, for four executions for treason. Among them were an earl and a baron who were not permitted the benefit of trial by their assembled peers. By the fifteenth century, however, where the charge of treason was concerned, summary trial and sentence of peers was well established in the Court of the High Constable under the Law of Arms. The following is intended to suggest the likelihood that these trials and executions were conducted in Richard of Gloucester's capacity as High Constable of England. The case of William, Lord Hastings on 13 June 1483 was the first of these executions, and it took place in circumstances where the protectorate was still suffering opposition. …
You can purchase the book from Annette Caron's website: www.annettecarson.co.uk