Female Discourses: Powerful and Powerless Speech in Sir Thomas Malory's Le Morte Darthur
Zimmerman, Yekaterina
PhD Thesis, Philosophy, University of Florida (2005)
Abstract
This work provides a sociolinguistic discourse analysis of female discourses in Sir Thomas Malory's Le Morte Darthur. Discourse analysis of power relations in female speech incorporates the methodology of Ethnography of Communication, as well as the Discourse-Historical method of critical text analysis, adopted for literary discourses. Various approaches to discourse analysis, initially designed for the analysis of spontaneous "live" conversations, were found applicable to the analysis of literary discourses. Malory's style of narration differs from the story-telling tradition of his time in that the emphasis is shifted from description to conversation. Contrary to the assumption of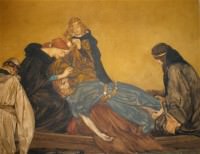 marginality of literary discourses as invented rather than spontaneous, discourse analysis of literary conversations contributes to the understanding of literary meaning. In addition, the present analysis contributes to a better understanding of gender differences in discourse and the role of power in female interactions through historical perspective. Power relations, both implicit and explicit, are a driving force in all kinds of verbal interactions in Le Morte Darthur. Powerless and powerful speaking styles are used interchangeably by the female characters throughout the sequences of speech events. Thus, powerless style of discourse is by no means typical of Malory's female characters, unless used strategically in order to assert power.
Click here to read this thesis from the University of Florida
✉Sign up for our weekly email newsletter!