Art and Jewish–Polish Relations: Matejko and Gottlieb at the National Museum in Warsaw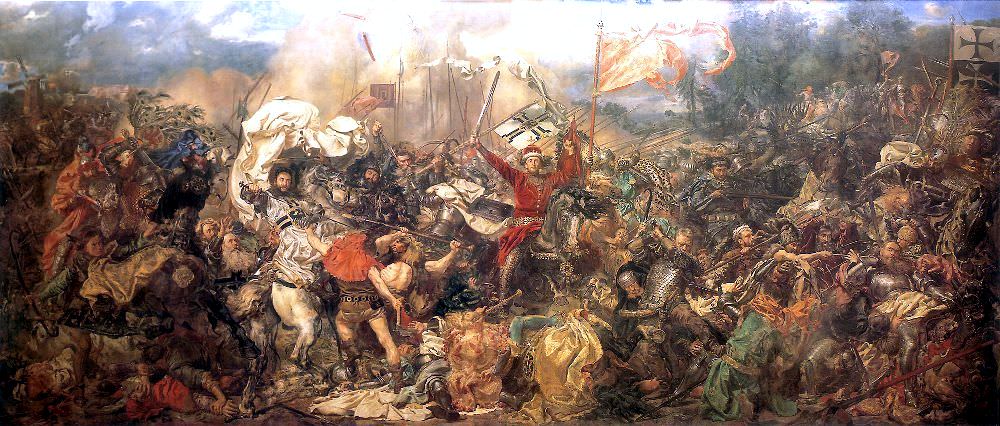 MENDELSOHN, EZRA
Jewish Studies at the Central European University, Budapest (2000)
Abstract
The visitor to the National Museum [Muzeum Narodowe] in Warsaw will eventually arrive at the splendid gallery devoted chiefly to the works of Poland's most celebrated nineteenth-century history painter, Jan Matejko. There his or her attention will inevitably be drawn to a gigantic painting, occupying an entire wall of the gallery, that depicts in stirring and graphic terms the famous battle of Grunwald (also known as Tannenberg) of 1410, when Polish arms defeated the Order of the Teutonic Knights and halted, for a while at least, the Drang nach Osten of the German enemy [fig. 1]. The subject of The Battle at Grunwald [Bitwa pod Grunwaldem] had long interested Matejko; the execution of this work took him three years. Its completion in 1878 coincided with his being presented with a royal scepter by the mayor of Cracow, symbolizing his uncontested rule in the realm of Polish national art. Bitwa has always attracted large, admiring, and inspired crowds. The Polish cultural journal Kłosy published, in 1879, an illustration of such a gathering viewing it in Warsaw, at the palace of the viceroy [fig. 2]. To this very day busloads of Polish school children are taken to see it and to imbibe its very obvious message. Matejko's huge canvas portrays not only a famous Polish victory, but also a victory of an alliance of the small East European nations fighting against German incursions on their territories. The battle took place not long after the conclusion of the first union between Poland and Lithuania, and the figure in the center of the painting is Grand Duke Witold (Vitautas, Vitovt) of Lithuania, a commander of the allied army and one of the greatest heroes of Lithuanian history.
Kliknij tutaj aby przeczytać cały artykuł/Click here to read this article from Jewish Studies at the Central European University 
✉Sign up for our weekly email newsletter!