A female Viking warrior confirmed by genomics
By Charlotte Hedenstierna-Jonson, Anna Kjellström, Torun Zachrisson, Maja Krzewińska, Veronica Sobrado, Neil Price, Torsten Günther, Mattias Jakobsson, Anders Götherström, Jan Storå
American Journal of Physical Anthropology (2017)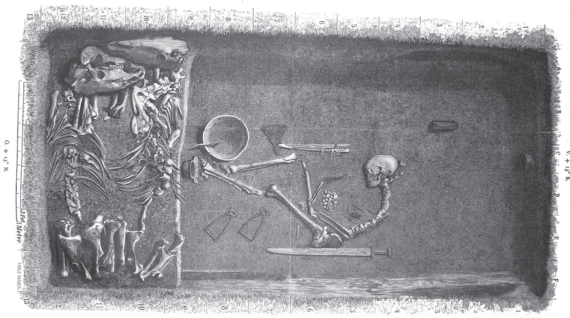 Objectives: The objective of this study has been to confirm the sex and the affinity of an individual buried in a well-furnished warrior grave (Bj 581) in the Viking Age town of Birka, Sweden. Previously, based on the material and historical records, the male sex has been associated with the gender of the warrior and such was the case with Bj 581. An earlier osteological classification of the individual as female was considered controversial in a historical and archaeological context. A genomic confirmation of the biological sex of the individual was considered necessary to solve the issue.
Materials and methods: Genome-wide sequence data was generated in order to confirm the biological sex, to support skeletal integrity, and to investigate the genetic relationship of the individual to ancient individuals as well as modern-day groups. Additionally, a strontium isotope analysis was conducted to highlight the mobility of the individual.
Results: The genomic results revealed the lack of a Y-chromosome and thus a female biological sex, and the mtDNA analyses support a single-individual origin of sampled elements. The genetic affinity is close to present-day North Europeans, and within Sweden to the southern and south-central region. Nevertheless, the Sr values are not conclusive as to whether she was of local or nonlocal origin.
Discussion: The identification of a female Viking warrior provides a unique insight into the Viking society, social constructions, and exceptions to the norm in the Viking time-period. The results call for caution against generalizations regarding social orders in past societies.
Click here to read this article from Wiley
See also Judith Jesch's response at Norse and Viking Ramblings
See also Howard William's response at Archaeodeath
See also Leszek Gardela's article 'Between myth and reality: Amazons of the Viking world' in Medieval Warfare magazine
✉Sign up for our weekly email newsletter!