Intermarriage Between Christians and Jews in Medieval Canon Law
By James Brundage
Jewish History, Vol.3:1 (1988)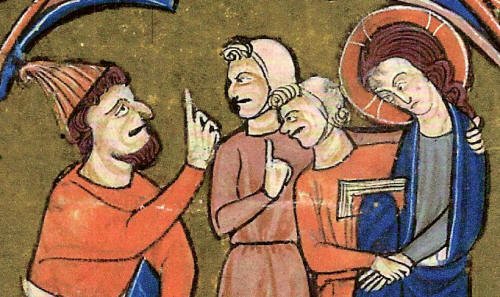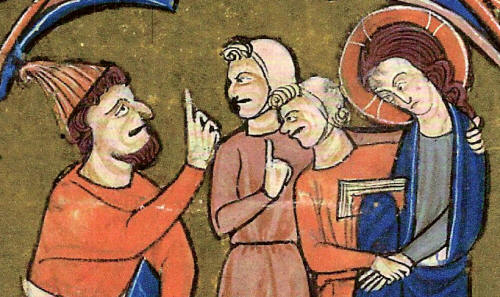 Introduction: Restrictions on contact between Christians and Jews appeared early in Christian history and remained a prominent feature of ecclesiastical law throughout the Middle Ages. Many of the Church's members during the earliest generations of the Christian era were converts from Judaism, and Church authorities sought to assure that when Jews became Christians they severed their former ties and discontinued the religious practices they had observed prior to baptism. From a very early period the Church was particularly anxious about the dangers that marriage ties might pose when one partner converted to Christianity while the other did not. As the numbers of non-Jewish converts grew during the second and third centuries, canon law also attempted to insulate gentile Christians from exposure to Jewish beliefs and practices.
Canonical Jewry law was thus well established even before the era of Constantine the Great (ca. 280-337). Growth and elaboration of this element of Church law continued apace through the Patristic period and the early Middle Ages. Earlier scholars have studied the Jewry law of that period in considerable detail and its history is well known. Less attention has been paid, however, to the development of this branch of canon law during the classical period of canonical jurisprudence, from the middle of the twelfth to the latter part of the fourteenth century. This paper examines one important aspect of canonical Jewry law in its classical phase; namely, the law dealing with sexual relations between Christians and Jews, primarily within marriage, but also outside of it.
Gratian included in his Decretum (written ca. 1140) some twenty canons that touched on sexual and marital relationships between Christians and Jews. During the century after Gratian, Church authorities refined and elaborated the law on some of these issues, and, by 1234, the major decretal collections included twenty further canons dealing with these matters.
Click here to read this article from Jewish History