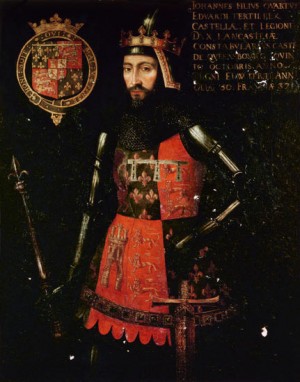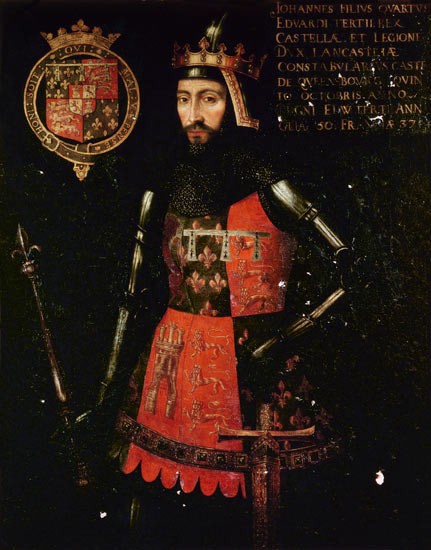 The spider in the web: the weaving of a new, Lancastrian England in the late fourteenth and early fifteenth centuries
By Emily Denise Brattin
Master's Thesis, University of Missouri-Kansas City, 2013
Abstract: In late-fourteenth century England, the third surviving son of King Edward III, John of Gaunt, Duke of Lancaster, became obsessed with gaining control of the nation and establishing a Lancastrian legacy that would one day evolve into a dynasty. This thesis investigates and compares the political maneuvering of John of Gaunt and his grandson, King Henry V, in order to illuminate the long-lasting effects of their actions which forever changed the face of both the monarchy and church in England.
In the 1370s, the aged King Edward III left the governance of the realm in the hands of his third surviving son, John of Gaunt. Edward the Black Prince of Wales was himself very sickly and incapable of administering the government, and the king's second son, Lionel of Antwerp the Duke of Clarence, had passed away earlier, on 17 October 1368. From the early 1370s until his father's death in 1377, while Lancaster acted as de facto king of England, he developed a predilection for power that he was not readily willing to relinquish when his ten-year old nephew, Richard of Bordeaux, ascended to the throne as King Richard II. During his tenure as the guardian of the realm, John of Gaunt brought together a group of powerful men whose unwavering loyalty was critical in Lancaster's scheme to seize the realm.
The insatiable appetite of John of Gaunt extended as far as coveting the authority of the church and centralizing that power under the crown. Lancaster's web of supporters propagated his agenda in the governance of the kingdom, and threw the church in England into an age of turmoil and uncertainty, leaving it vulnerable to possible appropriation by the temporal realm. John of Gaunt's eldest son Henry of Bolingbroke, who seized the throne from his cousin as King Henry IV in 1399, either learned little from his father's strategems or rejected them, leaving him vulnerable to coercion by his advisors and parliament. Unimpressed by his father's mediocre reign, Henry V adopted his grandfather's flawed tactics for constructing a power base, and improved them.
Examining the political maneuvering of John of Gaunt, Duke of Lancaster and his grandson, King Henry V, this thesis will show how the House of Lancaster wove the authority of both the temporal and spiritual realms into an inescapable web that enabled John of Gaunt's direct descendents to secure their continuous position as heirs to the throne of England.
Click here to read this thesis from the University of Missouri-Kansas City
✉Sign up for our weekly email newsletter!