The African Paradise of Cardinal Carvajal: New Light on the "Kunstmann II Map," 1502-1506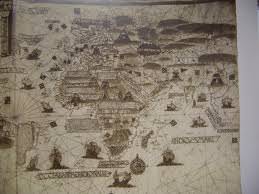 Scafi , Alessandro (The Warburg Institute)
Renaissance and Reformation, Vol. 31, No. 2 (2008)
Abstract
The manuscript map of the world known as "Kunstmannn II" (one of a set of thirteen charts published by Friedrich Kunstmann in 1859) first caught my attention as an example of late medieval maps on which the earthly paradise (or
Garden of Eden) is located in Africa rather than in the Far East .
Le symbole du paradis que l'on voit sur la carte géographique du monde «Kunstmann II» (1502–1506) offre à l'historien un point de départ remarquable pour l'exploration des idées européennes sur un paradis terrestre en Afrique et des perceptions européennes de l'Afrique aux environs de 1500. Une analyse attentive de l'iconographie de cette carte met en lumière son contexte et ses objectifs. Les armoiries présentes sur le grand arbre du paradis appartiennent au cardinal espagnol Bernardino López de Carvajal (1456–1523), ambassadeur de l'Espagne auprès du pape. Carvajal, qui a joué un rôle important dans le cadre du traité de Tordesillas, était un partisan convaincu d'une nouvelle croisade contre l'Islam en Afrique et au Moyen Orient qui visait la reconquête de Jérusalem et l'expansion de la foi chrétienne dans le monde.
Click here to read this article from Renaissance and Reformation