How English is the Bayeux Tapestry?
Musgrove, David
BBC History Magazine (2010)
Abstract
With a major conference about the Bayeux Tapestry at the British Museum this month, David Musgrove considers where it was made and by whom, and asks historians whether the tapestry should be displayed in England.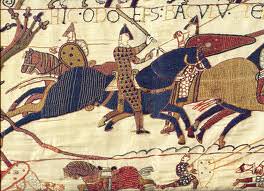 The Norman Conquest of England –1066 and all that – is one of the most-told tales in history. When William the Conqueror brought his Norman knights over and felled the cream of Anglo-Saxon England at the Battle of Hastings, he ushered in a dramatic change at the top that's been troubling the English national psyche ever since.
And the conquest is all the more noteworthy for the document that records it, the gloriously colourful embroidery that we now know as the Bayeux Tapestry. Feted as the most famous cartoon strip in history, this masterpiece of needlework has been reproduced, caricatured, discussed and examined so many times that it is surely one of the most recognisable historic documents in the world.
Click here to read this article from BBC History Magazine