The episcopate of Walter Langton, Bishop of Coventry and Lichfield, 1296-1321: with a calendar of his register
By J.B. Hughes
MPhil thesis, University of Nottingham, 1992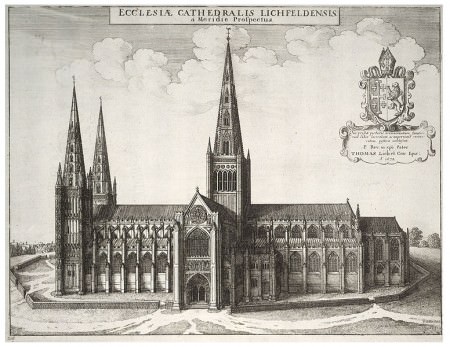 Abstract: This thesis produces for the first time a calendar of the episcopal register of Walter Langton, bishop of Coventry and Lichfield 1296-1321. The whole of the register is produced with the entries calendared in the order in which they appear and numbered serially. Latin transcripts of at least one example of each type of entry have been given.
This thesis studies the administration of the diocese of Coventry and Lichfield by a bishop who rose through Edward I's service to become treasurer in 1295 and was thus the most important and influential government minister until the end of the reign. His career reached its zenith after his elevation to the episcopate in 1296, which can be seen as the ultimate reward for his loyal service to the crown. Although Langton's position changed dramatically with the accession of Edward II, he remained politically active until his death. Langton's episcopate thus illustrates the interrelationship between the medieval church and central government.
Langton's register is the earliest extant register for the diocese and its study has thrown light upon the administration of the diocese, the recruitment of clergy, patronage and the state of religious life at this time. Moreover, the register contains important information concerning the bishop himself. Because of involvement and personal vicissitudes, Langton has been criticised for neglecting duties. His register, however, shows this was not the case and that he was a conscientious bishop. his political situdes, Langton has his diocesan shows that this was conscientious.
The thesis discusses Langton's Episcopal register, the diocesan administration and bishop Langton in turn.
Click here to read Volume 1 of this thesis from the University of Nottingham