Medieval News
Archaeological research has just been published which reveals the location of a hitherto lost early medieval kingdom that was once pre-eminent in Scotland and Northern England.
Medieval Articles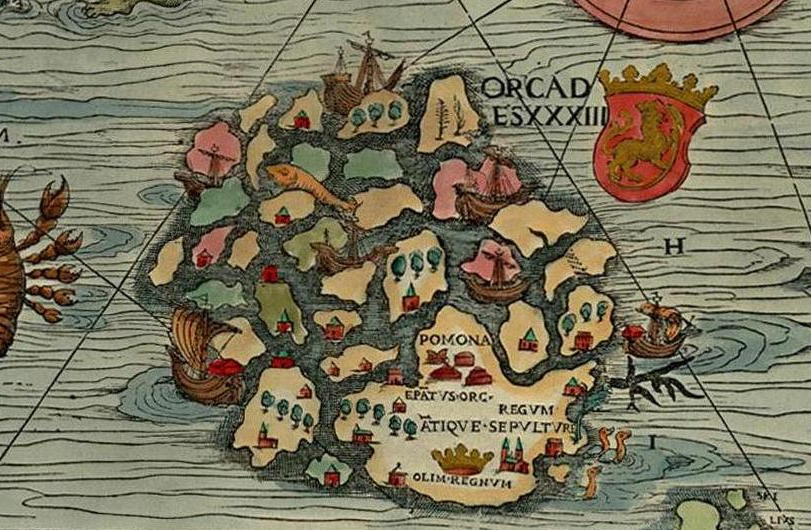 In recent years, it has been suggested that the first permanent Scandinavian presence in Orkney was not the result of forcible land-taking by Vikings, but came about instead through gradual penetration
The 7th century ship-burial at Sutton Hoo is famous for the spectacular treasure discovered when it was first excavated in 1939.
A fourteenth century family coordinating elements of English life, the academy, the church, the crown, land, commerce and family connections to become significant participants in London life.
This paper reevaluates a sample of Hincmar's writings in the 840s and 850s to argue that he sought to make explicit what Augustine had left unclear regarding predestination by appealing to common standards of orthodoxy in the forms of additional patristic authors, conciliar judgments, and liturgical practices.
This essay investigates the question of how women were used as scapegoats for male impotence during the Witch Craze.
Medieval Videos
Castle Rushen has been at the heart of Manx history, politics and life for over 800 years and has changed radically over time as its purpose and context has altered. It is surely the most important structure on the Island.
In his De luce (on light) he extends it to the origin of the Universe in what has been referred to as the 'Medieval Big Bang'.
Rather than describing a history of the port of London, it seems more appropriate to say PORTS of London, since the locations, vessels, cargoes and waterfront facilities differed as much as the prevalent languages, cultures and currencies.
Medieval Books
Graphic novel fans! Today, we're hosting day 2 of Dmitry Yakhovsky's Book Tour and running an international contest to give away a copy of his latest graphic novel: The Shadow of the Cross Want a chance to win it? Subscribe to our free newsletter and send us an email by December 23 answering this question: What fresco would Dmitry like to paint? (a […]
Taking a look at the influence of Johan Huizinga's Autumn of the Middle Ages.
From biographies of the leading warriors to the grumbling of a government official, here are thirty medieval texts that have been translated in 2016.
Medieval Movies & TV
In between the exciting chases, hand-to-hand combat, and surprisingly well-acted dialogue, the overall film drags with too many flat moments of the lead actors staring into the camera or watching something happening from afar.
Horror just got medieval! An Australian filmmaker is set to expand a short film about crusaders fighting zombies, hoping to create a web series. A fundraising campaign is now underway to give Black Crusade the chance to unleash its undead horde.
Released in 2009, also under its German title, ,Die Päpstin,, ,Pope Joan' recounts the medieval legend of Johanna von Ingleheim, a woman who disguised herself as a man, lived as a monk, and eventually went on to become pope in the ninth century.
More Medieval History
A summary of a paper given by Professor Christina Lee at the University of Nottingham's "Making the Medieval Relevant" Conference.
The final talk in Sesson #1041, Engaging the Public with the Medieval World, looked at what English children are being taught in school. How much medieval history is in the new programme that was released in September 2014? Megan Gooch, Curator at the Historic Royal Palaces breaks down the English system for us in her paper, 'Imprisonment, Execution, and Escape: Medieval History and the National Curriculum'.
How does the use of unscripted, adaptive, historical interpretation boost the tourist experience? Right on the heels of our look at the Tower of London's visitor engagement, we heard a paper from Lauren Johnson, Research Manager for Past Pleasures, the oldest historical interpretation company in the UK who educate and entertain the public at historical sites, museums, on stage and and on TV.
A talk about how historical sites, like the Tower of London engage the public. How to handle visitor expectations, what do people come t see and how to tell history in a captivating but accurate manner.
This session (#508) was one of several at Leeds devoted to exploring childhood in the Middle Ages. Our presenters talked about the stereotypes of adolescence, and what the coroner's rolls revealed about the deaths (and lives) of medieval children.
These three novels in the series Kindred of the Sea, by C.J. Adrien, are aimed at a young adult/teen audience
Before queenship and Camelot, Guinevere was a priestess of Avalon. She loved another before Arthur, a warrior who would one day betray her.
What I find most compelling is the struggle to create a country which became England, a struggle that must have seemed hopeless at times and which roiled Britain in constant fighting. We think of England (especially) as a peaceful landscape, but in the 9th, 10th and 11th centuries it was horribly brutal and merciless.
Last week, we spoke with Dr. Matthew Green about his new History of London course. This week, we take a peek into the first lecture of the series, a 'teaser' on Medieval London in 1390.
The potential of video games for teaching history is receiving increasing recognition. However, the greatest emphasis is on their use as tools in secondary education. The few studies focusing on undergraduate education demonstrate the use of games to create an immersive historical experience with counterfactual options.
It is one of the most popular video games ever created. Moreover, educators are finding ways to use Minecraft as a teaching tool, and one that could be ideal for learning about the Middle Ages.
Dark and visceral, the graphic novel version of Beowulf created by Gareth Hinds is considered to be one of the most successful adaptations of the Old English tale.