Medieval News
Martin Golberg, Senior Curator at the National Museums of Scotland, travelled to the British Museum to give audiences perspective on the various pieces in the exhibit as well as an introduction to what constitutes "Celtic" art.
Medieval Articles
Sometime around 1400, an anonymous monk of Byland Abbey recorded one of the strangest moments in supernatural history: the story of a ghost that wasn't there.
Robert II, King of Scots and grandson of Robert the Bruce was a handsome, charming man who had many descendants. He not only had two wives who had numerous children but many mistresses who had babies as well.
The main idea behind this study is to look into Viking festivals' contents, characteristics and its concept development. Together with that we test out the Experience design model effectiveness for using in the event studies. I
In their quest for silver, the Vikings discovered and accessed valuable trade routes to Constantinople that led to an extensive trade exchange with the Arab world. Seizing upon the opportunity to enrich themselves, the Vikings came into contact with Arabic wealth and treasures through their raids, and soon realized the potential of a peaceful trade exchange.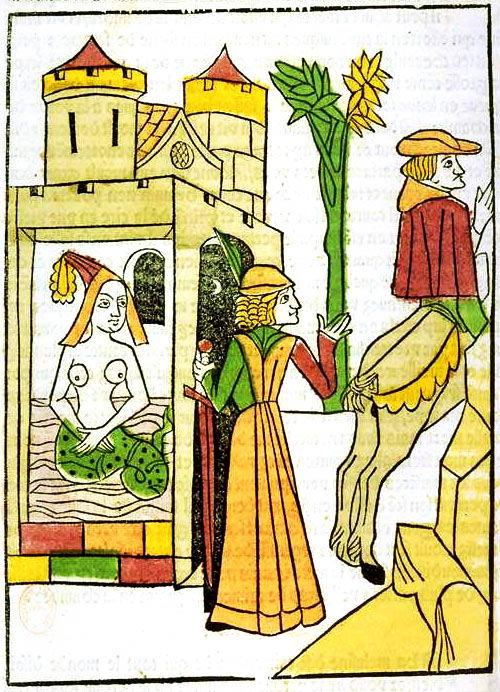 This work contains many elements common to supernatural tales of its time-shape-shifting, magic fountains and marriages between humans and fairies – yet it is also surprisingly relevant to our own age, whose popular culture is saturated with modem myths and vampire love-stories.
Medieval Videos
It all begin in the year 1190 when Genghis Khan managed to bring together the different nomadic tribes of Mongolia in a single, powerful army of 200,000 men.
A documentary about the famous pilgrimage route from the Middle Ages
The paper, bindings, bookplates, repairs, stains, handwritten notes, stamps and markings all leave traces that give clues to how they were made, where they have been, and can even tell about the lives of the people who have read them. We're finding clues and following up with research to find out more.
Medieval Books
An ebook from Medievalists.net
Here are a few recent releases for medievalists hunting for Black Friday books and early Christmas gifts!
Martin Wall takes us on a journey into a period that still remains mysterious, into regions and countries long forgotten, such as Mercia and Northumbria.
Medieval Movies & TV
This paper explores how embroidery has been used in films to establish, and often destroy, feminine space and autonomy. However, the most recent addition to the medieval film canon represents a distinct change in this trend.
YouTuber Listy McGee has created his list of the Top 10 Viking Movies
To celebrate the 40th anniversary theatrical re-release of 'Monty Python and the Holy Grail' and the release of the 40th anniversary Blu-Ray DVD Monty Python has put together this video of Terry Gilliam's lost animations from the film.
More Medieval History
A summary of a paper given by Professor Christina Lee at the University of Nottingham's "Making the Medieval Relevant" Conference.
Just like their modern day counterparts, medieval cities had to deal with their own criminal underworlds – the sex trade, gambling, and violence taking place within their walls. At the International Medieval Congress, held earlier this month at the University of Leeds, these issues were explored as part of session #706: Perceiving and Regulating Vices.
The final talk in Sesson #1041, Engaging the Public with the Medieval World, looked at what English children are being taught in school. How much medieval history is in the new programme that was released in September 2014? Megan Gooch, Curator at the Historic Royal Palaces breaks down the English system for us in her paper, 'Imprisonment, Execution, and Escape: Medieval History and the National Curriculum'.
How does the use of unscripted, adaptive, historical interpretation boost the tourist experience? Right on the heels of our look at the Tower of London's visitor engagement, we heard a paper from Lauren Johnson, Research Manager for Past Pleasures, the oldest historical interpretation company in the UK who educate and entertain the public at historical sites, museums, on stage and and on TV.
A talk about how historical sites, like the Tower of London engage the public. How to handle visitor expectations, what do people come t see and how to tell history in a captivating but accurate manner.
What I find most compelling is the struggle to create a country which became England, a struggle that must have seemed hopeless at times and which roiled Britain in constant fighting. We think of England (especially) as a peaceful landscape, but in the 9th, 10th and 11th centuries it was horribly brutal and merciless.
As England crumbles, so does Thomas as he rails against the world which has snatched life and love away from him so savagely. The end of the 116 year struggle between old foes shall be the making and breaking of a boy yet to develop into a man….
Touted by George R.R. Martin as the original Game of Thrones, Druon's series has enjoyed a resurgence in popularity recently, and can be found in major bookstores.
The potential of video games for teaching history is receiving increasing recognition. However, the greatest emphasis is on their use as tools in secondary education. The few studies focusing on undergraduate education demonstrate the use of games to create an immersive historical experience with counterfactual options.
It is one of the most popular video games ever created. Moreover, educators are finding ways to use Minecraft as a teaching tool, and one that could be ideal for learning about the Middle Ages.
Dark and visceral, the graphic novel version of Beowulf created by Gareth Hinds is considered to be one of the most successful adaptations of the Old English tale.
Here are a few ideas that teachers can use to teach the Middle Ages with LEGO