Medieval News
A $5 million grant from the Stavros Niarchos Foundation will enable UCLA to create the UCLA Stavros Niarchos Foundation Center for the Study of Hellenic Culture.
Medieval Articles
There is much to be gained from interpreting the tenth-century Exeter Book riddles as a characteristically biographical group of texts. They comprise a rich source of information for the study of Anglo-Saxon concepts of life courses and life stages.
This article will discuss how Demetrius Kydones promoted the policy of reconciliation and alliance with Western European powers against the Ottoman Turks.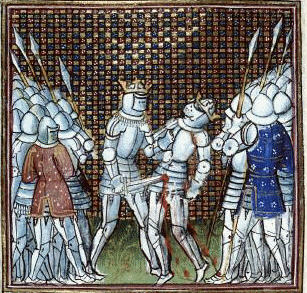 There has been only one Pedro, Pedro I of Castile. This was no accidental oversight. The circumstances of his reign, and the passions and animosities he unleashed, assured that his name and memory would not be honored, sparing future monarchs of the taint of Pedro's tumultuous reign.
Since the publication of The Sermon in 2000, the field of medieval sermon studies has matured into a well-established and growing interdisciplinary area of medieval studies.
Clemence of Barking and Valdes of Lyons were strong supporters of Catholic ideals and were seeking to endorse Christian virtues. Nevertheless, their actions provide examples of innovation and a deviation from the mainstream.
Medieval Videos
Why do we value, conserve and interpret medieval sacred heritage? What is the potential significance of medieval archaeology to contemporary social issues surrounding religious identity, and how does this impact on archaeology? 
This lecture focuses on three medieval scholars – one rabbi, one priest, and one imam – who had a lot to say about their rival religions, arguing that there is much more going on when they did so than just ugly denunciation.
I explore what appears to be a largely overlooked aspect of devotional practice associated with the medieval crusading movement.
Medieval Books
You can read about living in London, marrying in China, or ruling in Normandy.
We're pleased to announce another book tour underway, with Melita Thomas unveiling her latest: The King's Pearl: Henry VIII and His Daughter Mary on Medievalists.net. The book is a re-examination of Henry VIII's eldest daughter, Mary, and her relationship with her father.
From Adam and Eve to Suleiman and Roxelana – five new books for medievalists.
Medieval Movies & TV
King Arthur: Legend of the Sword premiered May 2017 MAN CANDY ALERT! When I sat down to watch "King Arthur" over this past weekend, I was a bit apprehensive. This big-budget, big-name feature film didn't last very long in theaters (never a good sign) and it received overall negative reviews (typically, not always, not a […]
In between the exciting chases, hand-to-hand combat, and surprisingly well-acted dialogue, the overall film drags with too many flat moments of the lead actors staring into the camera or watching something happening from afar.
Horror just got medieval! An Australian filmmaker is set to expand a short film about crusaders fighting zombies, hoping to create a web series. A fundraising campaign is now underway to give Black Crusade the chance to unleash its undead horde.
More Medieval History
A summary of a paper given by Professor Christina Lee at the University of Nottingham's "Making the Medieval Relevant" Conference.
The final talk in Sesson #1041, Engaging the Public with the Medieval World, looked at what English children are being taught in school. How much medieval history is in the new programme that was released in September 2014? Megan Gooch, Curator at the Historic Royal Palaces breaks down the English system for us in her paper, 'Imprisonment, Execution, and Escape: Medieval History and the National Curriculum'.
How does the use of unscripted, adaptive, historical interpretation boost the tourist experience? Right on the heels of our look at the Tower of London's visitor engagement, we heard a paper from Lauren Johnson, Research Manager for Past Pleasures, the oldest historical interpretation company in the UK who educate and entertain the public at historical sites, museums, on stage and and on TV.
A talk about how historical sites, like the Tower of London engage the public. How to handle visitor expectations, what do people come t see and how to tell history in a captivating but accurate manner.
This session (#508) was one of several at Leeds devoted to exploring childhood in the Middle Ages. Our presenters talked about the stereotypes of adolescence, and what the coroner's rolls revealed about the deaths (and lives) of medieval children.
These three novels in the series Kindred of the Sea, by C.J. Adrien, are aimed at a young adult/teen audience
Before queenship and Camelot, Guinevere was a priestess of Avalon. She loved another before Arthur, a warrior who would one day betray her.
What I find most compelling is the struggle to create a country which became England, a struggle that must have seemed hopeless at times and which roiled Britain in constant fighting. We think of England (especially) as a peaceful landscape, but in the 9th, 10th and 11th centuries it was horribly brutal and merciless.
Last week, we spoke with Dr. Matthew Green about his new History of London course. This week, we take a peek into the first lecture of the series, a 'teaser' on Medieval London in 1390.
The potential of video games for teaching history is receiving increasing recognition. However, the greatest emphasis is on their use as tools in secondary education. The few studies focusing on undergraduate education demonstrate the use of games to create an immersive historical experience with counterfactual options.
It is one of the most popular video games ever created. Moreover, educators are finding ways to use Minecraft as a teaching tool, and one that could be ideal for learning about the Middle Ages.
Dark and visceral, the graphic novel version of Beowulf created by Gareth Hinds is considered to be one of the most successful adaptations of the Old English tale.