In this paper, my aim is to advance our understanding of medieval approaches to consciousness by focusing on a particular but, as it seems to me, representative medieval debate — one which has, as its locus, a particular concern about self knowledge.
Medieval philosophers clearly recognized that emotions are not simply "raw feelings" but complex mental states that include cognitive components. They analyzed these components both on the sensory and on the intellectual level, paying particular attention to the different types of cognition that are involved.
This was a fantastic paper given at the Crown and Country in Late medieval England session at KZOO. There were only two papers but both were interesting and enjoyable. This paper delved into the history of science in late medieval England and examined why the fourteenth century, a time that is usually synonymous with doom and gloom, plague and uprising, wasn't all that bad upon closer observation.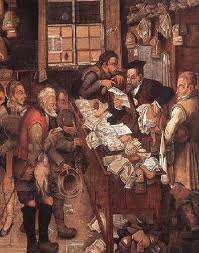 Before turning to this early history there is one more aspect of the contemporary situation that I need to mention. Even in the Western world, the original homeland of natural rights thinking, there is no consensus—and sometimes overt skepticism—about the existence and grounding of such rights.
I would like to start with some assumptions. First, I take it for granted that the apposition of negative terms to the Almighty God became quite early an accepted practice in Christianity, which caused in turn that the infinite, as an opposite term to something easily convenient to positive delineation, was admitted in the repertoire of God's adverbial description.
This thesis is nominally about William of Ockham, a theologian who did not care to read potentially damning papal constitutions until tapped to do so by a superior (superiore mandate). Following a suggestion of R. G. Collingwood, a proper first question we should ask, is what was this supposedly unwilling theologian trying to do by composing the longest defense of Franciscan poverty ever written?
In this paper I want to explore the reasons for Ockham's surprising vacillation—not as an historical or biographical exercise, but to uncover the insights which nourished his positive views about nominalism and which also cast him into such uncertainty.
Ockham on the Concept Boler, John (University of Washington) Medieval Philosophy and Theology 11 (2003) Abstract It is a commonplace of Ockham commentary…
How Is Material Supposition Possible? Read, Stephen (University of St. Andrews) Medieval Philosophy and Theology 8 (1999) Abstract In an insightful article on…
Nicholas of Autrecourt and William of Ockham on Atomism, Nominalism, and the Ontology of Motion Dutton, Blake D. Medieval Philosophy and Theology, vol.…
Ockham and Ambiguity Sinkler, Georgette Medieval Philosophy and Theology, vol. 4 (1994) Abstract In the Sophistichi eknchi, Aristotle identifies thirteen types of fallacies…