Stanford medievalist Marisa Galvez is examining the origins of people's fascination with crystals. She finds that crystals inspired the writing and poetry of some medieval authors in unexpected ways.
Read on to find out more about the book, amazing women in history, and Elizabeth's connection to the royal wedding.
Miranda Kaufmann talks about her new book, Black Tudors, which explores the place of Africans in Tudor and Stuart English society.
Giovanni, co-founder of the company with his wife Giulia, has told us a bit about the industry and the importance of facsimiles as teaching tools. Furthermore, for those of you looking for information about a specific medieval manuscript or facsimile, Facsimile Finder provides a database with all the information you need. So long endless searching, hello Facsimile Finder!
The Law Book: From Hammurabi to the International Criminal Court, 250 Milestones in the History of Law, by Michael H. Roffer, explores 250 of the most fundamental, far-reaching, and often controversial cases, laws, and trials that have profoundly changed our world—for good or bad.
It wasn't until I was older, and writing European history, that I stumbled across a mention in the chronicle of Matthew Paris, a 13th century Benedictine monk, of the four daughters of the count of Provence who all became queens—queen of France, queen of England, queen of Germany (queen of the Romans), and queen of Sicily. Even from the little I was able to glean from the chronicle I could see that these women, who I had never heard of, exercised real power. Instantly curious, I went to find a book about them.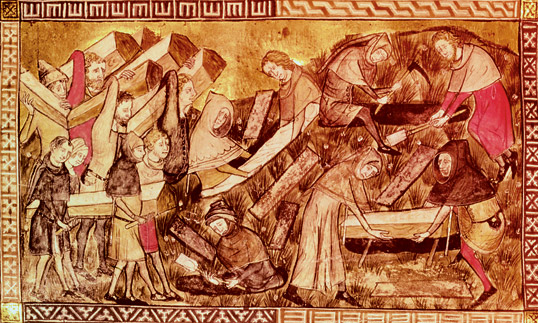 My interview with fiction author, SD Sykes about her fantastic medieval crime novel, Plague Land.