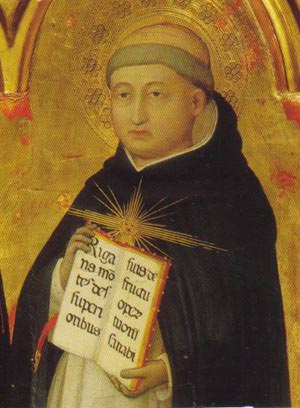 Within western civilization, there is a long-running dispute over which authority, the Christian tradition or Greek philosophical tradition, is the more trustworthy and comprehensive. Like other topics written about by Plato and Aristotle, friendship became part of this controversy. During Thomas Aquinas' time, this struggle was focused on whether the works of Aristotle could be reconciled with Christianity.
Thomas's treatment of the problem of war in the Summa Theologiae is refreshingly simple.
The Spiritual and the Supernatural according to Thomas Aquinas Murray, Andrew A paper delivered at the Biennial Conference in Philosophy, Religion and Culture,…
The Aesthetics of Marriage in The Canterbury Tales Kuo, Ju-ping M.A. Thesis, The Institute of Foreign Languages and Literature, June 23 (2003) Abstract…
To hold on to the values of the original university might allow to cope with the current crisis.
Some Educational Aspects in England in the 16th Century Pacheco Lucas, Margarita (University of Extremadura – Cáceres) Proceedings of the II Conference of…
God, the Devil, and Cupid: A Tripartite Formula for a Sinful Death Leaños, Jaime (University of Nevada – Reno) eHumanista: Volume 9, (2007)…
Towards Modernity and Absolute Power: Interpretation of Kingship in The Book of the Twelve Wise Men and The Seven Books of Law McLean,…
One subject that has never been closely investigated is the saint's relationship to another famous saint, Nicholas of Myra, on whose feast in 1273 Thomas experienced the mystical vision that led to the definitive cessation of his writings.
The Medieval Synthesis Lecture by Professor Keith Ward Given at Gresham College on December 7, 2007 Religion and Philosophy. Aquinas and Aristotle. The…
Hero or Tyrant: Images of Julius Caesar in Selected Works from Vergil to Bruni By Sarah M. Loose Master's Thesis, Brigham Young University,…
The Legal Character of Natural Law According to St. Thomas Aquinas By Stephen L. Brock PhD Dissertation, University of Toronto, 1988 Abstract: The…
Can Atheism be Rational? A Reading of Thomas Aquinas BROCK, STEPHEN L. Acta Philosophica, vol. 11 (2002) Abstract Does St Thomas Aquinas have anything…
If God is eternal Muller, Pe. Dilonei Pedro Mirabilia 11, Tempo e Eternidade na Idade Média, Jun-Dez (2010) Abstract This study focuses on comprehending some…
MENTAL EXISTENCE IN THOMAS AQUINAS AND AVICENNA Black, Deborah L. Mediaeval Studies, Vol. 61 (1999) Abstract Traditionally it was the case that in philosophical…
Analogy, Semantics, and Hermeneutics: The "Concept versus Judgment" Critique of Cajetan's De Nominum Analogia P. Hochschild, Joshua (Wheaton College) Medieval Philosophy and Theology…
Power Made Perfect in Weakness: Aquinas's Transformation of the Virtue of Courage Konyndyk De Young, Rebecca (Calvin College) Medieval Philosophy and Theology 11…
Aquinas's Impediment Argument for the Spirituality of the Human Intellect Lang, David P. (Wentworth Institute of Technology, Boston) Medieval Philosophy and Theology 11…
The Angelic Doctor and Angelic Speech: The Development of Thomas Aquinas's Thought on How Angels Communicate Goris, Harm (Catholic Theological University Utrecht) Medieval…
Aquinas on Attributes Leftow, Brian (Oriel College, Oxford) Medieval Philosophy and Theology 11 (2003) Abstract Aquinas' theory of attributes is one of the…
Suárez and the Problem of External Sensation  South, James B. Medieval Philosophy and Theology 10 (2001)  Abstract In this article I will demonstrate…
Aquinas's Abstractionism Houston, Smit (University of Arizona) Medieval Philosophy and Theology 10 (2001) Abstract According to St. Thomas, the natures of material things…
God as Nature's Goal Kretzmann, Norman Medieval Philosophy and Theology, Volume 9, Number 2, September 2000 Abstract IV. GOD AS NATURE'S GOAL 1.…
Badness Kretzmann, Norman Medieval Philosophy and Theology, Volume 9, Number 2, September 2000 Abstract 1. The Badness Thesis Badness' is not a good…
Agents, Actions and Ends Kretzmann, Norman Medieval Philosophy and Theology, Volume 9, Number 2, September 2000 Abstract Aquinas concludes his introductory chapter by…