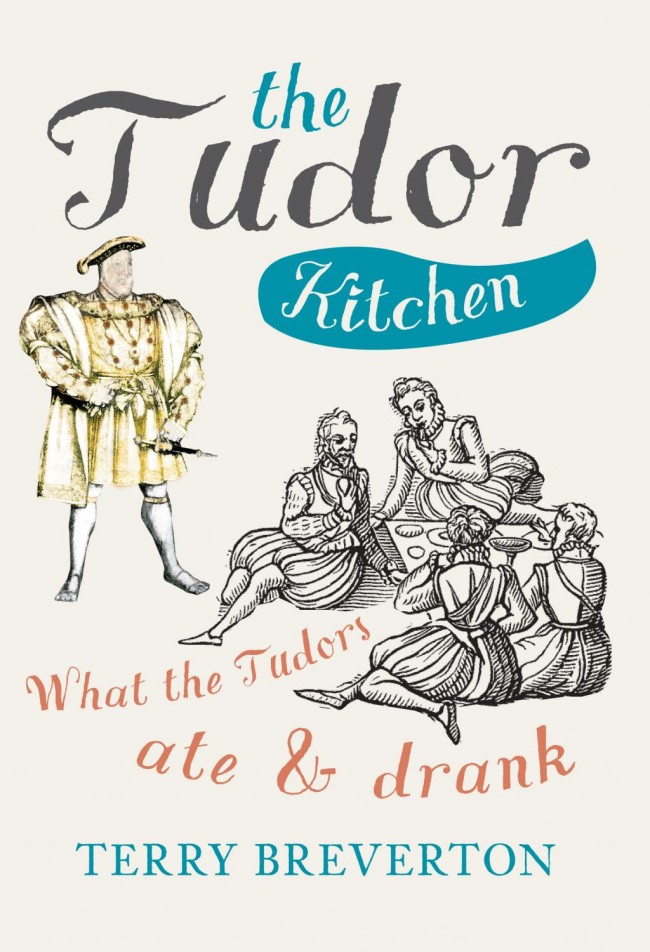 Did you ever wonder what you would cook in 16th century England? The new book The Tudor Kitchen, What the Tudors Ate and Drank, by Terry Breverton, has over 500 sumptuous – and more everyday recipes, enjoyed by the rich and the poor, all taken from authentic contemporary sources.
Breverton writes about food and drink during the Tudor era, examining topics such as the Kitchens at Hampton Court, Tudor Etiquette at Table, Banquets and Sumptuary Laws. The second part offers over 350 pages of recipes of main courses, desserts, snacks, drinks and sauces. Here are two of them:
A Dysschefull of Snowe – Strawberries on Snow
(A Proper Newe Book of Cokery c.1575)
Ingredients: 1 pint whipping cream; ½ cup sugar; 1-2 tbsp rose water; 2 pints strawberries; 1 cup red wine; ¼ cup sugar; ½ tsp cinnamon; ¼ tsp ginger; ratafia or amaretti biscuits or wafers.
Method: Whip the cream and set aside. Beat egg whites until they form soft peaks. Add the egg whites to the whipped cream, and whisk together. Add rose water, and add a little sugar at a time, blending in smoothly. Place cleaned strawberries into a bowl. Mix red wine, sugar, cinnamon, and ginger. Pour mixture over strawberries and allow to marinate for an hour or two. Serve the 'snow' with strawberries on top and with a couple of wafers or amaretti biscuits on the side.
Steamed Asparagus Spears in Orange Sauce
Traditional Elizabethan recipe, originating in Granada, 1599.
Seville oranges are sour, so if using other oranges, add a good dash of lemon juice. 'Para Hazer Escudilla de Esparragos Silvesteres y Domesticos: Take the most tender part, cause it to boil in hot water until they seem tender, and finish cooking them with good broth of capon or veal: and these want to be served with a little broth. With the wild ones [asparagus] you can put raisins. The cultivated ones can be served with orange juice, sugar, and salt.'
Ingredients: 12 spears of asparagus; juice of 6 Seville oranges; 1 tbsp brown sugar; 1 tbsp butter; pinch of salt.
Method: Snap off the woody base of the asparagus, and steam the spears for about 8 minutes or until tender. Meanwhile heat the orange juice in a saucepan. Add the sugar and a pinch of salt and whisk in the butter. Allow to thicken for a few minutes. Arrange the asparagus on a plate, pour over the orange sauce and serve immediately.
Other recipes you can find in The Tudor Kitchen include Egges in Moneshyne (Eggs in Moonlight); Salmon Sallet for Fish Days (Salmon and Onion Salad with Violets); Capons in Dorre (Chicken in Golden Almond Milk); Bubbly Beer Cheese Breakfast Soup; Compost ( Cold Spiced Vegatables in Wine and Honey Sauce); Garbage (Broth of Chicken Heads, Feet and Livers); Cressee (Ginger Pasta Cheese Chessboard Sandwich); Venison Coffins (Deer Pasties); Peares Sodden in Ale, Bastard and Honney (Pears in Bastard Pies); Chaudynn for Swanns (Swan with Blood and Entrail Sauce); Aphrodisiac Sweet Potato Pie with Cock Sparrow Brains; Roast Cat as You Would Wish to Eat It; Heron Rost (Spit-Roasted Heron); and Hart Rows (Pig Stomach Legless Hedgehogs).
To learn more about The Tudor Kitchen, please visit Amberley Publishing
You can also buy the book from Amazon.com