Visitors to Winchester have a new way to explore the English city's medieval Jewish past. Winchester City Council and the University of Winchester have launched a new city trail telling the story of this community.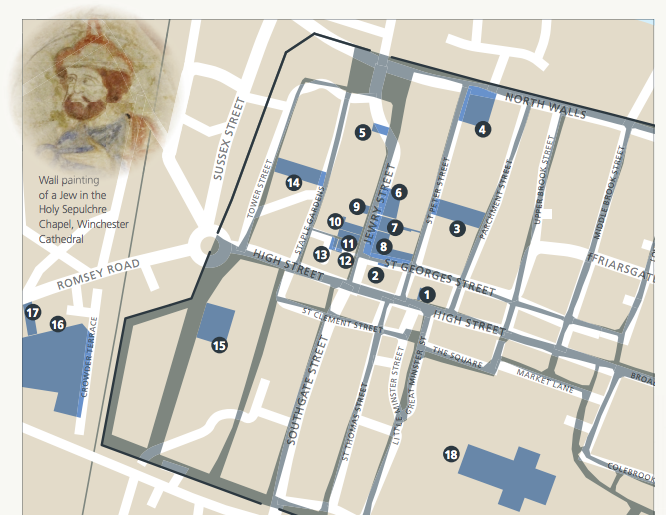 The trail was launched earlier this month, and an information brochure was created by a team of researchers at the University of Winchester, led by Dr Christina Welch, Senior Lecturer in Religious Studies. She liaised with the Jewish community and focused on the period when Winchester was an important medieval city.
The medieval Jewish settlement was based around Jewry Street, and while it thrived for a period, the 13th century would see the community facing heavy fines, imprisonment and execution before their eventual expulsion in 1290.
Dr Welch explained, "The Medieval Jewish Trail takes pedestrians back in time to the Middle Ages when the city was one of the largest and wealthiest Jewish settlements in England. We were already aware of a colourful 13th-century character known as Licoricia of Winchester; however, so much was missing from our knowledge of local Jewish history and culture between these times that we set out to fill in the gaps with the help of students and researchers in Winchester and Berlin."
The trail uncovers the sites of various past landmarks from this historic period including a synagogue, a statue of a blindfolded young woman named 'Synagogia' and a grand stone house owned by David of Oxford.
Danny Habel, a local businessman who championed the project, commented, "The Medieval Jewish Winchester Trail has been developed because our community wanted to tell a story, not always a comfortable one, of a community which endured executions, fines and imprisonment and which is an integral part of the city's rich cultural past. The persecution and eventual expulsion of the Jewish population provides an important lesson that applies not only to Jews, but to all races and religions. We become a richer community when we treat every minority with respect. The generosity of Winchester City Council and the detailed, high-quality research work by the University has made me so proud of the city of my birth. I am so pleased the story has been told. For us it is symbolic of the City and University's support to a minority group."
Councillor James Byrnes, Winchester City Council's Portfolio Holder for the Local Economy and Tourism, added, "The launch of the leaflet this week was a good example of a local success story. In this case we had the strong voice of a community with a story to tell and two supportive local organisations who wanted to help make it happen and who were happy to invest time and resources to ensure it did. I hear that the University and Council are looking to do more together along similar lines in the future – another positive outcome for our city."