The Kidnapped King: Richard I in Germany, 1192–1194
By John Gillingham
German Historical Institute London Bulletin, Vol.30:1 (2008)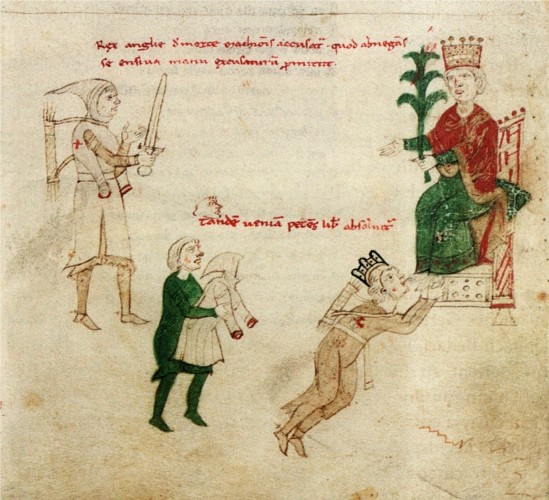 Introduction: In 1193 the rulers of Germany and England met for the first time in history. Their meeting offers an appropriate subject for a talk in memory of Tim Reuter, whose death in 2002 cut sadly short the life and career of the scholar who, choosing to work in both England and Germany, did more than any other twentieth-century English medieval historian to bridge the divides between Anglophone and German scholarship. Or does it? After all, that first meeting was hardly a propitious one. The king of England, Richard I, returning from crusade, had been seized by the duke of Austria near Vienna in December 1192 and then handed over to Emperor Henry VI. A contemporary illustration of the meeting shows Richard lying on the ground, kissing the emperor's feet in a ceremony of submission. Whether or not he had to endure quite so humiliating a ceremony, there is no doubt that he was subsequently kept a prisoner in Germany for more than a year. Not until February 1194, when he did homage to Henry and a king's ransom had been paid, was he released. The German chronicler, Otto of St Blasien, wrote: 'I prefer not to give the exact weight (of gold and silver) that he paid because if I did, it would be thought incredible and I would be accused of lying'. Hardly surprising that it would be almost 150 years before another king of England, Edward III in 1338, visited Germany.
On the other hand, the subject of Richard I in Germany is one which can readily be related to two of Tim's own principal fields of interest: in the first place, political structures and the conventions which shaped political action, the rules of the game (in Gerd Althoff's phrase, 'die Spielregeln der Politik im Mittelalter'); in the second place, Tim's hope that we English might become more German. Rather than repeat what he called 'one of the standard tropes of English medievalists: narrative sources unreliable, back to the archives', we should stop treating 'literary texts as low-grade archives which can be mined for "facts" ', and instead follow our Continental colleagues in paying more attention to what such sources can tell us about the attitudes and political values of the time. In this case, by paying close attention to what contemporary and near-contemporary narrative sources, chiefly German and English but also Italian and French, have to say about Richard's captivity—and to what they do not say—we may be able to answer some fairly precisely formulated questions about the rules of the game. Did Duke Leopold VI of Austria and Henry VI play within the rules? What was the place of notions of honour within those rules? Whose rules were they anyway?
Click here to read this article from Perspectivia.net
See also: Coeur de Lion in Captivity
✉Sign up for our weekly email newsletter!