The battlefields of Towton and Tewkesbury, which were critical moments during England's Wars of the Roses, are both facing threats that could limit access to them by the public.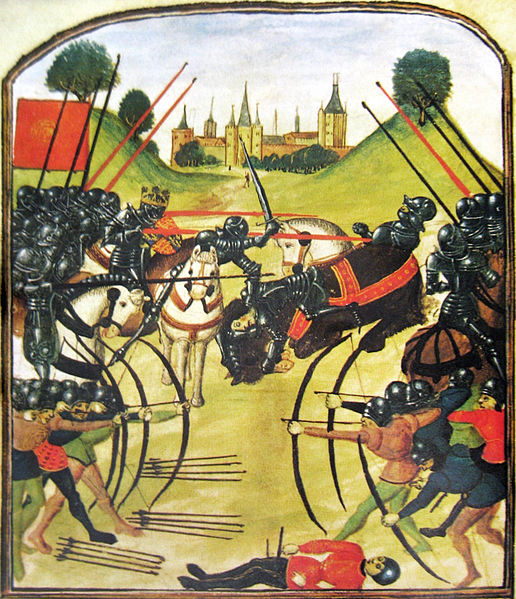 Part of the site of the Battle of Towton could be turned into a Traveller's site if local authorities approve of a measure later this week. Selby District Council is meeting on January 8th to vote on whether or not to approve the construction of a Traveller's site in an area known as the Gallops. This area is scheduled to be part of the new Towton battlefield boundary, but that change will not be implemented before the spring.
The Towton Battlefield Society and others have raised objections to allowing part of this heritage site, which in 1461 saw over 50,000 men fight over the control of England.
Jamie Adair, writing on her HistoryGot.com website, explains, "Towton is not only a battlefield location, it's also a mass gravesite for approximately 50,000 people and a source of rich archeological evidence. Respect for the people who died at the site, regardless of how vainglorious the reason, is one reason not to allow construction on Towton."
Over 130 people have left comments on the Selby District Council's webpage, most condemning the idea. Sally Herriett states, "as an Archaeologists, Presenter of History and Lecturer in Archaeology, I consider the Battle of Towton to be one of the most important battles to have happened on English soil, Please do not allow this planning application to take place!! We should take care of our history."
Meanwhile, a different threat is facing part of the site of the Battle of Tewkesbury, where in 1471 the forces of King Edward IV destroyed much of their Lancastrian opposition. The Gastons Fields, which is in the centre of the battlefield, is being sold by auction by the Tewkesbury School. It is expected that the ten-and-a-half acre piece of land will be purchased for between £120,000 and £150,000, and the Tewkesbury Battlefield Society fears that the new owners will be developers who are aiming to build homes on the site.
On the group's Facebook page they announced plans to raise funds to buy the property themselves. The write, "we are determined that the Gastons should be preserved from any possible future threat and managed for the public good by being purchased by an appropriate charity and forever protected. We are working with the national Battlefield Trust to this end."
The deadline to submit a bid for the sealed auction on the Gastons lands is set for February 3rd.
Both battlefields are part of the English Heritage Register of Historic Battlefields, which ensures that local authorities take into account the historical importance of the site when determining whether or not to grant planning permission.