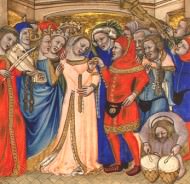 Marriage and the Status of Women as Viewed through Early Medieval Law Codes
By Capri M. O'Neil
MA Thesis, Rice University, 1983
Abstract: The Visigoths, the Salian and the Ripuarian Franks, the Burgundians and the Lombards each compiled their own law codes upon settling into the old Roman Empire. Sources for this time period may be few, but law codes contain a wealth of information on early medieval society.
Each of these law codes is different. They are all variations based on the amount of influence exerted by three key influences of this time: the Germanic, the Church and the Roman. Yet all of these law codes stress the great importance of the family in their society.
Family and marriage is rightly detailed in the laws and adds considerable insight into the status of women in early medieval society. These laws codes touch on such aspects of marriage and family as betrothal, dowry, invalid and valid marriages, children, adultery, divorce, inheritance and remarriage. These law are an important source for early medieval society.
Click here to read this thesis from Rice University
✉Sign up for our weekly email newsletter!