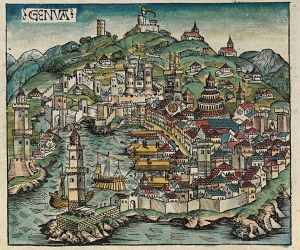 The Genoese citizenship of Carlo I Tocco of December 2, 1389
Zečević Nada
Zbornik radova Vizantoloskog instituta: Issue 42 (2005)
Abstract
The Genoese citizenship, granted to Carlo I Tocco and his regent mother Magdalene by the authorities of the Republic of Genova (December 2, 1389) is a document the existence of which is widely accepted in the scholarly circles despite the fact that the details of its content have still remained largely unknown. Attempting to contribute to a better understanding of the circumstances under which the grant was issued, the first part of this paper brings the transcription of the entire document as well as an analysis of its political and legal context. The paper's second part deals with the document's paleographic, diplomatic, and sigillographic features, as well as with its prosopographic and topographic details.
On December 2, 1389 Carlo I Tocco and his regent mother Magdalena were granted the citizenship of the Republic of Genoa. This act was, as pointed out in the first part of this paper, most probably a consequence of the Tocco need for protection from the Ottoman, Venetian, Navarese, and Albanian expansions in western Greece as well as of the Genoese aspirations towards the Ionian islands governed by this family. However, although at first sight this document seems an important demonstration of a pragmatic political alliance, it never left the domain of protocol. Its implementation was never recorded by any of the parties; in fact, short time upon its ratification, the Tocco ruler was recorded as making alliances with the Genoa's rival, the Venetian Republic.
How did such a situation occur? Was the enactment of this document delayed by some significant political event or had both parties signed it with just a pro forma alliance in mind? Aiming at answering this question, in this part of the paper I shall turn to documentary elements of the Genoese citizenship grant of 1389. By observing its paleographic, diplomatic, sigillographic, and prosopographic characteristics, and by comparing these elements with other examples of the Genoese and Tocco documentary practice, I shall survey the official perception of this alliance. In addition, in order to fully understand the circumstances under which the grant was concluded, I shall also comment on the people, institutions and topography mentioned in the act.
Click here to read this article from Zbornik radova Vizantoloskog instituta