This 14th century castle is found  in the department of Corrèze in south-central France.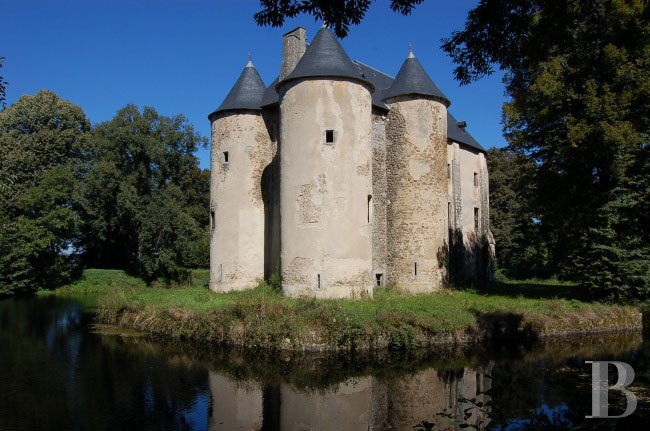 Built in the fourteenth and fifteenth centuries, this granite building stands in the centre of a vast esplanade surrounded by a moat fed by running water. It comprises two rectangular units flanked by three round towers, two of which stand either side of the south-west gable and the third, against the façade, housing the stairway and the entrance.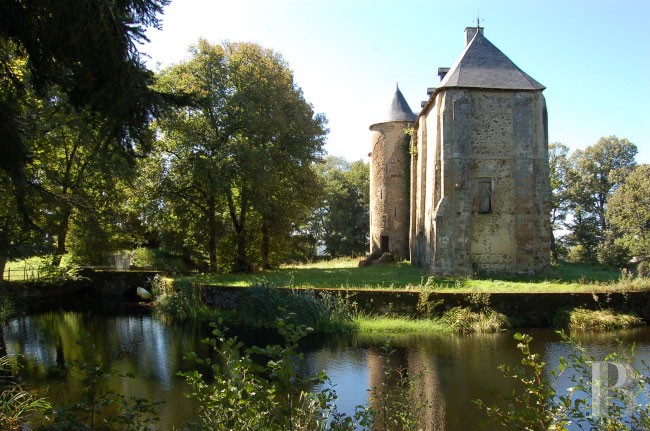 Classified as a Historic Monument , both inside and out, it was almost in ruins when acquired by its present owners. Their restoration work includes a new roof. In 2001 the castle was awarded the "Vieilles Maisons Françaises" grand prize and the Historic Dwelling "Belle demeure" Award.
Restoration of the inside is waiting to be continued (the beam system and part of the floors have been done). There will, then, be a total of 4,682 square feet of living space divided into 15 rooms over three stories.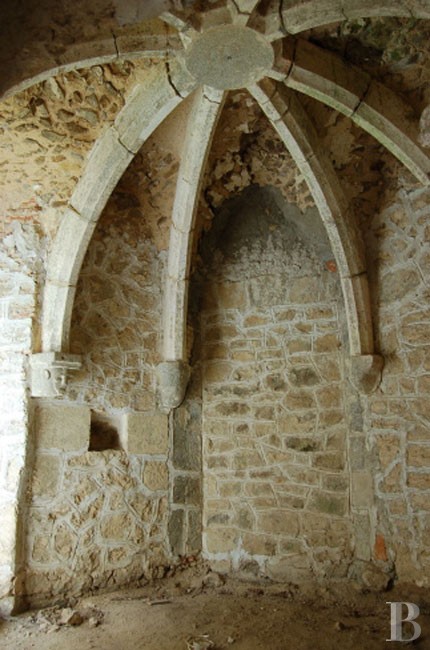 Besides the beautiful stone spiral stairway and the chapel's gothic ribbed vault, numerous period features await restoration, including stone floor tiles, panelling, and monumental fireplaces.
The property in this sale, which is just over seven hectares in size, is heavily wooded, and also includes a Caretaker's cottage converted into an accommodation with dining room, kitchen, two bedrooms, mezzanine, shower room and toilet. A former bread oven converted into holiday accommodation. with two living rooms and an attic. There is also a third small house with two bell-turrets, which is in need of restoration.
The castle's history dates back to at least 1335, when it was the property of  Etienne d'Aix, seigneur of Bazaneix, then lord of Aix until 1375. Jean de la Peyssarie, who was related by marriage to Etienne, then took possession of the castle, and in 1414 it was inherited by his son Robert de Ligneyrac. The castle  was occupied by English forces during the Hundred Years War, and passed through several hands until abandoned by its then owner in 1924.  The present owners bought the castle in the 1990s.  In recent years, the property has hosted medieval festivals. The video below is a short clip from one such festival:
The property is being sold by the French real-estate company Patrice Besse. Click here to view more photos and details about the sale.
The owners of the castle also have their own website of the castle, which you can find here.