VAGANTES CONFERENCE: Session 1: Performance & Ritual The Performance of Separation at Escomb Church Ashely Lonsdale Cook (University of Wisconsin – Madison) This…
'THE HANGINGS ABOUT THE HALL': An Overview of Textile Wall Hangings in Late Medieval York, 1394-1505 Kightly, Charles Medieval Textiles, Issue 28, June (2001) Abstract…
Industrial Energy from Water-Mills in the European Economy, Fifth to Eighteenth Centuries: the Limitations of Power Munro, John (University of Toronto) Department of Economics University…
Women's Clothing in Kievan Rus La Rus, Sofya Kies, Mka Lisa Medieval Textiles, Issue.27 (2001) Abstract Women's clothing in 10th to 15th century Rus', as…
The symbiosis of towns and textiles: urban institutions and the changing fortunes of cloth manufacturing in the Low Countries and England, 1270 – 1570 Munro,…
In the middle ages cloth was produced for local consumption almost everywhere, and export trade too was fed from a large number of countries; from England, from the Languedoc and from many of the Italian towns.
Clothworkers and Social Protest: The Case of Thomas Deloney Hentschell, Roze Comitatus: A Journal of Medieval and Renaissance Studies, 32(1) (2001) Abstract Thomas…
Subsequent research has found a slightly earlier reference, dating between 1452 and 1456, to 'one knytt gyrdll.'
Archaeological Textiles – A Need for New Methods of Analysis and Reconstruction Cybulska, Maria & Maik, Jerzy (Technical University of Łódź Institute of…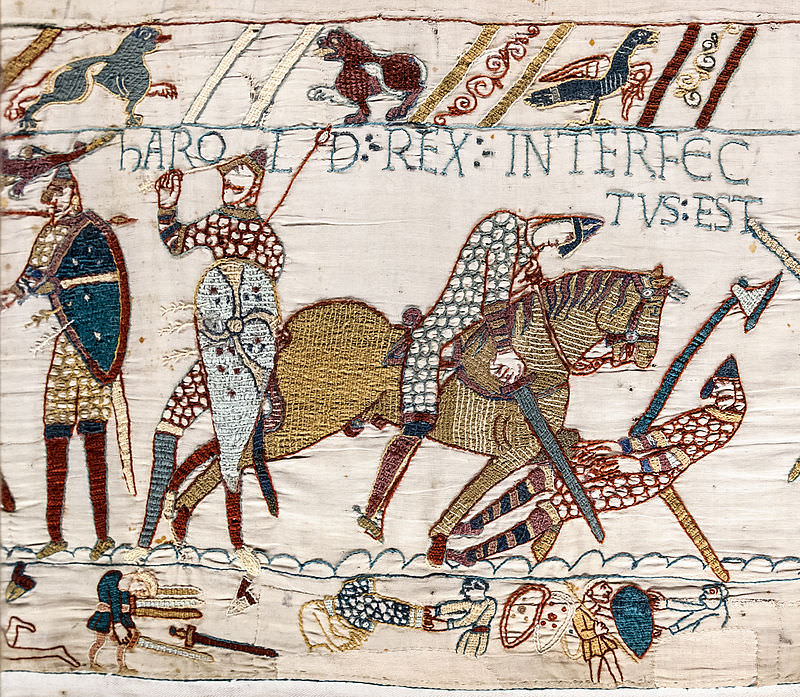 One of the mysteries of The Bayeux Tapestry is its bias: was this depiction of the events of 1066 meant to be from the point of view of the conqueror or the conquered?
There are a number of places in the Tapestry where the graphics of the main register are different in both subject matter and style. The men pictured at these points are workers, engaged in practical, mundane (distinctly non-heroic) tasks.