In this article I wish to query the notion that there is a single Eastern Christian religious political theory, such a one that could be stood in opposition to Catholic medieval or early modern Protestant theories of church-state relations…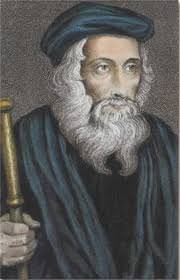 Prototestant ideas are evident throughout Wyclif's later works and the flood of Wycliffite tracts and writings
which were published in the late 1370's and 80's; but they are most clearly and systematically communicated in the collection of English Wycliffite sermons which were compiled, one sermon for each of the services in the church calendar year, sometime near, or soon after, the end of Wyclif's life.
This thesis examines the questions raised by Darrell's exorcisms and the ways in which they were shaped by relations of power. I hope that it will shed new light on the ways in which people formed their religious and ideological identities in this pivotal period in English history.
The research shows that considerable sums were spent during the later middle ages on the construction, decoration, and maintenance of screens in all churches, from cathedrals and monasteries to parish churches.
The Ghost in Early Modern Protestant Culture:Shifting perceptions of the afterlife, 1450-1700 McKeever, Amanda Jane PhD Thesis, Philosophy, University of Sussex, September 27,…
Utopia Pre-Empted: Kett's Rebellion, Commoning, and the Hysterical Sublime Holstun, Jim (State University of New York, Buffalo) Historical Materialism, 16 (2008) Abstract In…
An Introduction to Olympia Morata, a Forgotten, Feminist Voice from Sixteenth Century Italy Webb, Val (Augsburg College, Minneapolis, MN) Sea Changes, Vol.1 (2001)…
The Alphabetum catholicorum of Arnaldus of Villanova, an edition and study Burnam, Hope Lampert (university of Toronto) PhD Thesis, University of Toronto (1996)…
Music Associated with Santiago and the Pilgrimage Pederson,E.O. Perspectives on the Camino: A collection of essays on the Camino (2007) Abstract The Medieval…
"A Vile, Infamous, Diabolical Treaty": The Franco-Ottoman Alliance of Francis I and the Eclipse of the Christendom Ideal Piccirillo, Anthony Carmen (Georgetown University)…
A new interactive version of The Acts and Monuments by John Foxe has been published online by the University of Sheffield. This work,…
The Polemical use of the Albigensian Crusade during the French Wars of Religion Racaut, Luc French History 13, 3 (1999) Abstract From the outset…
The Eastern Schism and the Division of Europe Ledit, Joseph S.J., Theological Studies, Vol.12:4 (1951) Abstract Now that Europe has been cut in…
This essay takes a different path through the religious culture of fourteenth-century Bohemia and of Prague, in particular.
The Apocalypse and Religious Propaganda: Illustrations by Albrecht Dürer and Lucas Cranach The Elder Hartmann, Denise Alexandra (University of Toronto) Marginalia, Vol. 11,…
"Orthodoxy versus Radicalism: Authorial Agenda in Two English Renaissance Witchcraft Texts" Dorrington, Jesse Hortulus, Vol. 4, No. 1, (2008) Abstract This article focuses on…
"Orthodoxy versus Radicalism: Authorial Agenda in Two English Renaissance Witchcraft Texts" Dorrington, Jesse Hortulus, Vol. 4, No. 1, (2008) Abstract This article focuses on…
Analogy and Formal Distinction: On the Logical Basis of Wyclif's Metaphysics Conti, Alessandro D. (La Maddalena, Italy) Medieval Philosophy and Theology, vol. 6,…