Christmas in medieval Europe could include feasting, gambling, one-day marriages, boy bishops and trolls.
A Medieval Christmas: Go We hence to Bethlehem's Bower – playing this weekend in Toronto
So what does a Christmas cookie from centuries ago look like? This time of year, a bakery in Pennsylvania Dutch country is busy making cookies the same way they were made in medieval Germany, and their edible pieces of art history have attracted customers from all over the globe.
This article grew out of a project with our drama students at Bergen University College, Norway, in December 2002. I wanted to introduce the students to pre-Christian roots of Yule, and to give them an historical introduction to extant dramatic/ritual Christmas customs in our country.
Richard and Anne's first Christmas as king and queen in 1483 was happy, even though they were in London and their only son Edward had to remain at Middleham, too sickly to travel.
Henceforth, I became a snapper-up of everything relating to Christmastide, utilised every opportunity of searching libraries, bookstalls, and catalogues of books in different parts of the country…
Cards show a miniature of a bishop consecrating a church, and the decorated opening page of a special Mass celebrated during the Christmas season.
What are the origins of Christmas? How it was celebrated in the Middle Ages?
THE BIRTH OF SACRIFICE: ICONOGRAPHIC METAPHORS FOR SPIRITUAL REBIRTH IN MASTER MATTHIAS' ISENHEIM ALTARPIECE Anderson Tuft, Katherine Master of Arts Thesis, Brigham Young University (December…
Breikocher Josef: The Medieval Origins of a Grotesque Comic Motif in the German Christmas Play By Martin W. Walsh Paper presented at the 2004…
This study seeks to examine the popular customs of preindustrial Poland, in particular the festal food customs of the Wigilia supper, the primary ritual of the winter (Christmas) season.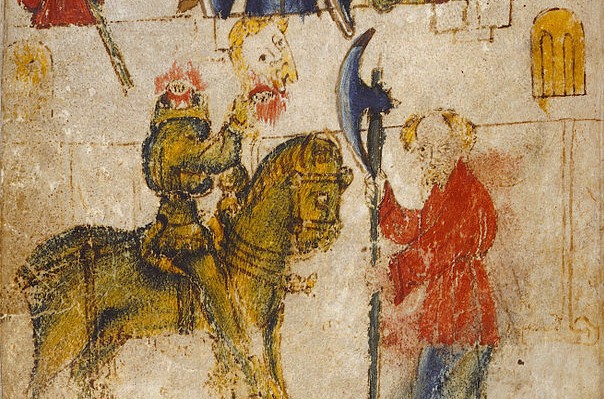 The Christmas motif is readily observable in the poem's externals, particulary in its setting and in the person of the Green Knight.