This article is a case study in the problems that can arise when a narrow interpretive lens is brought to historical texts by modern historians interested primarily in the facts of military history.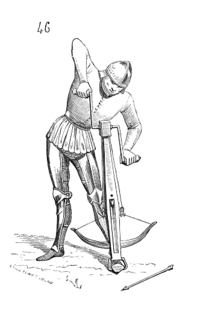 The aim of this paper is to examine an aspect of social life linked to one of the most important and original forms of military organization in the whole of Portuguese history—the besteiros do conto (crossbowmen).
There were several naval engagements during the Hundred Years War. The three that will be looked at in this work are the battle of Sluys in 1340, the battle of Les Espagnols-Sur- Mer in 1350, and the capture of a French fleet from La Rochelle. The battle of Sluys is the best known of these, but it can be argued that subsequent engagements are of equal or greater importance. Many historians have downplayed these events.
According to DeVries, historians (myself specifically included) who argue for the lethal efficacy of the longbow are committing the sin of technological determinism, and indeed 'have done military history and the history of technology a disservice'…
The purpose of this research is to determine the effect various medieval arrows have on various medieval armour types. The time period that I tested is around 1400, the time of the English longbow.
The Efficacy of the English Longbow: A Reply to Kelly DeVries By Clifford Rogers War in History, Vol.5:2 (1998) Introduction:Every profession needs its…
French Noble Archers from the lists of those appearing for royal musters from about 1420 to 1560 By James Prescott Published Online, 2011…
The Normans, soon after the conquest of Sicily was complete, began using Sicilian Saracen mounted and foot archers as auxiliary troops: in 1076 they were included in the Guiscard army at the seizure of Salerno