As perennial Christian ideals, virginity and chastity were frequent themes in medieval religious discourse. Male religious were frequently virgins and were expected to cultivate chastity; however, women not men were usually the focus of such discussions. But some monastic writers did draw on those models when considering their own spirituality, and it is worth knowing how they were understood and enlisted in those instances.
My interest here is in finding usable information regarding the centuries before Bede and in the way in which new data, especially the outstanding recent archaeological discoveries at Whithom in Wigtownshire (which is certainly the site of Candida Casal. might support and add to his picture of St. Ninian and the importance of his church at Candida Casa.
This study will revolve around the characterisation of Edward as constructed in the various surviving texts, and its emphasis will be twofold: my primary concern is to explore how St. Edward the Confessor's images were constructed, i.e. how he is represented in the various texts written about him.
This paper summary is part of a session on English Cistercians and focused on Aelred of Rievaulx and the abbey of Hexum.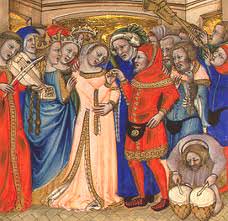 It is my intention not only to explore the discourse of love and desire in the fourteenth century, but also to examine how the ideas have been altered from those present in the Anglo-Norman and Latin material that was written or widely read in twelfth-century England and what pressures and influences may have brought about these changes.