The Church as a Woman: The Gendered Rhetoric of the Feminine Divine
By Dinah Wouters
Master's Thesis, University of Ghent, 2015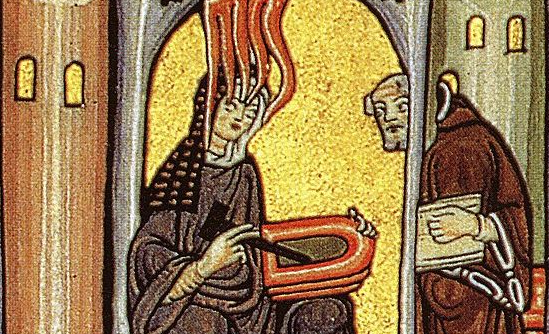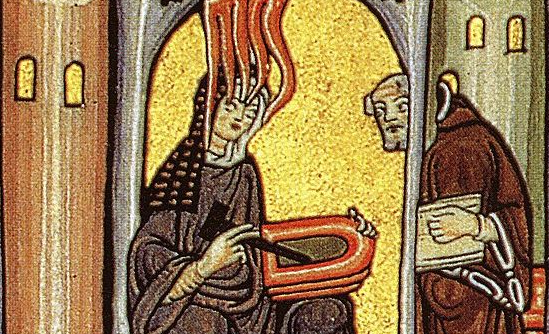 Introduction: Hildegard of Bingen is not only herself one of the most famous women of the Middle Ages and a very strong historical female figure, she was also "the first medieval woman to reflect and write at length on women." With Hildegard, we find someone that, first, defied and redefined gender roles in shaping her own self-image, in the way she lived her life and in the way she led her community of Benedictines. Second, we find someone who wrote extensively not only about the biology and sexuality of men and women but also about theology, morality and cosmology. Not surprisingly, then, Hildegard's person and her visionary and scientific works have been the focus of many studies about medieval ideas about sex, gender and sexuality. Her works have been popularized and are sometimes called proto-feminist. This study investigates just a small aspect of the subject, namely Hildegard's use of gendered rhetoric in her portrayal of the personified church.
Hildegard was born in 1098 in the Rhineland from parents of the lower nobility. In an autobiographical excerpt from her Vita, she later claimed that her visionary experiences began at the age of five. At eight, she was entrusted to Jutta, a devout noblewoman who was only a few years older than Hildegard and who was herself at that time entrusted to the care of a certain widow Uda. She became her mentor and learned her to read the Psalms and to write. Together with a small group of young women, they moved to the Benedictine monastery of Disibodenberg to live there as anchoresses (Sutherland). When Jutta died, Hildegard was chosen as head of the community.
All that time, she continued having visions, but it took her more than forty years and the encouragement of a male mentor to finally put to parchment the Scivias, her first work of visions. Hildegard's literary form is more intellectual than mystical: her visions are learned and systematic, and they are always explained by means of an extended exegesis. During the forty years of her writerly career, she (with the help of her co-workers) wrote an astonishing amount of works: three books of visions, letters, homilies, liturgical symphonies and a liturgical play, medical-scientific works, two vitae, a commentary on the Rule of Benedict, theological tractates and a self-devised new language. She also went on preaching tours around nearby monasteries and cities, although women were officially not allowed to preach.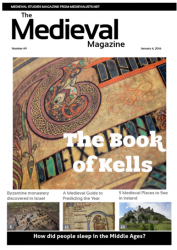 Hildegard was exceptional in that she managed to win the support of both religious and secular powers, despite being a female visionary and as such potentially subversive. She managed to do this by carefully controlling her public image. Not only did she portray herself as a weak woman who received all the knowledge she had from God (which at the same time is a very powerful claim), she also always stood firmly on the side of the pope's project of moral reform and always made sure to keep to orthodox teaching. This does not mean that she never stepped on people's toes, however: quite on the contrary, she used her power as God's messenger both to urge moral reform and to have her way in her own life. For instance, she left Disibodenberg to found her own cloister at the Rupertsberg, against the wishes of both the monks of Disibodenberg and some of her own nuns. She chastised the clergy and other powerful people for dishonouring the Church, and her own community was excommunicated for a while because they had buried an excommunicated man, whom Hildegard claimed had died in a state of grace. In her own life, then, Hildegard found ways to either ignore gender roles or bend them to her own profit.
Click here to read this thesis from Scriptie Bank
✉Sign up for our weekly email newsletter!