The face of a man who lived nearly a thousand years ago in Anglo-Saxon England has been recreated by experts from the University of Dundee.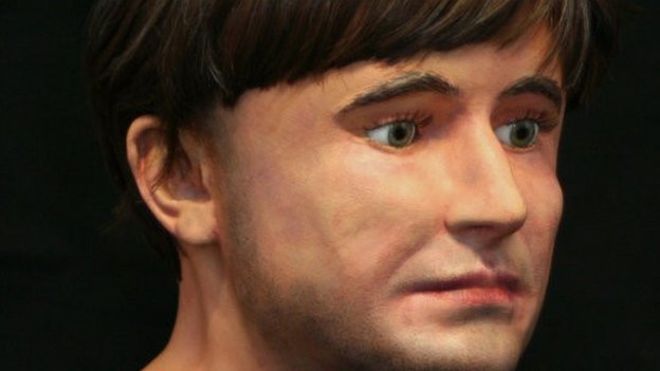 It was revealed earlier this week at Lincoln Castle, the site where the man's remains were discovered in 2013 as part of an archaeological dig on the site of an Anglo-Saxon church within the castle grounds. The skeleton was one of eight sets of remains discovered. It is now part of an exhibition at the castle, which has has recently been restored.
The facial reconstruction was carried out by specialists in the Centre for Anatomy and Human Identification at the University of Dundee, one of the world's leading centres for facial reconstruction.
Caroline Erolin, Lecturer in Forensic and Medical Art at the University of Dundee, explained, "His grave lay slightly under an important sarcophagus burial, which had resulted in excellent preservation of his skull making it the best candidate among the skeletons for facial reconstruction."
Cecily Spall, from FAS Heritage, which did the archaeological research on the site, offered more details about this man:
"The burial of this man was one of eight burials which were interred inside a small stone church or chapel which predates Lincoln Castle and was previously unknown. Osteological analysis identified the skeleton as that of a man aged between 36 and 45 years old. He had suffered from a range of degenerative bone diseases suggesting an active and strenuous lifestyle. His body was buried in both a wooden coffin and cloth shroud.
"High-precision radiocarbon dating indicates he died between AD 1035 to 1070, just before the Norman Conquest. Isotope analysis of his bones and teeth suggests that he originated in eastern England and could well have been born and bred in Lincolnshire."
Lincoln Castle was officially re-opened on Monday after a £22 million restoration project, which will allow visitors to visit the Victorian prison on the castle's grounds and see one of the original copies of the 1215 Magna Carta inside a high-security underground vault.
A new exhibition will also show some of the archaeological finds from the castle that were discovered during the restoration project. The exhibition is spread across three rooms, and includes finds from a late Roman townhouse, discovered where the David P J Ross Magna Carta Vault now stands, and the previously unknown Anglo Scandinavian church and its associated burials.
Significant finds include a limestone sarcophagus that once lay under the floor of the church, a rare discovery which attracted national media attention. There is also a Roman bronze eagle's wing from the late 1st century AD, possibly part of a grand imperial statue that stood in the nearby forum, and a stone scratched with the names of prisoners awaiting transportation to Australia.
Lincolnshire County councillor  Nick Worth commented, "The castle is one of the city's most significant and enigmatic archaeological sites, occupying a large area at the heart of historic Lincoln.
"Apart from the archaeological evidence of the medieval castle itself, its grounds include important remains from Lincoln's Roman past. This new exhibition shines a light on the past, giving glimpses of what life was like for people living on the castle site from late Roman and medieval times through to the Georgian and Victorian eras."
To learn more, please visit the Lincoln Castle website