Netflix is making a bold gamble – reportedly a $90 million (US) gamble – with their newest series, Marco Polo. The ten-episode first season is being released to their subscribers Friday.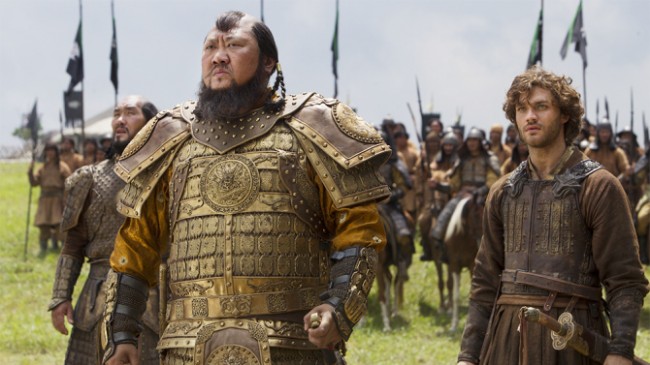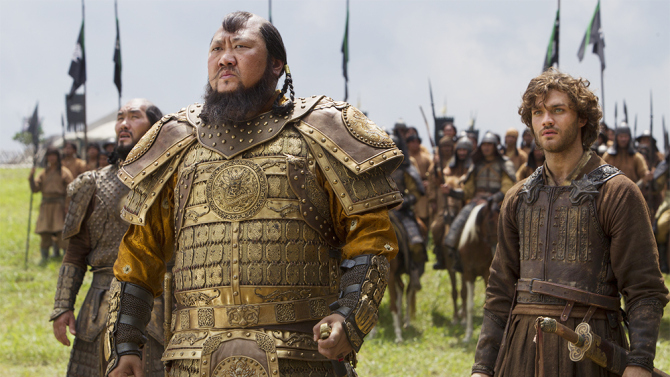 The series revolves around the famous medieval merchant and traveller Marco Polo, going east along the Silk Road and entering the world of the Mongol Empire and its ruler Kubilai Khan. Shot in Italy, Kazakhstan and Malaysia, the ten episodes will feature grandiose places, huge battle scenes and a cast of thousands.
The show was created by John Fusco, who is probably best known for the 2008 film The Forbidden Kingdom. He explains, "I grew up with this great interest in Asia. And I was this unlikely Italian-American kid who loved the East, and I was always reading about ancient China. And you cannot go into that world without encountering Marco Polo. What has haunted me these past couple of years is, I've just been amazed that Marco Polo has been hidden under this shroud of historical dust and this mythology. Like, 'oh, he brought noodles back to the West.' That's all I hear. I've talked to some really smart people who say, 'I don't know, he's an explorer?'"
Very few of the actors in this series are well known – Lorenzo Richelmy, who plays the title character, is an Italian actor who didn't speak English when he was cast for the part (to learn more about him, see 5 Things to Know About Lorenzo Richelmy, Marco Polo's Breakout Star). British actor Benedict Wong plays Kubilai Khan, while Canadian actress Olivia Cheng has the role of the concubine Mei Lin.
Some reviewers have seen the first six episodes and have not been impressed. Time magazine's James Poniewozik writes that, "if you like Game of Thrones, and historical drama, and pay-cable softcore, and martial arts movies (like Crouching Tiger, Hidden Dragon, whose sequel Netflix is also making)–and you want them crammed together, narrative sense be damned–you might like this gorgeous but ludicrous saga." Meanwhile, A.V. Club finds that "Polo is so replete with medieval warfare, lopped-off heads, gratuitous nudity, and persnickety period detail, it pleads to be compared with HBO's Game Of Thrones, a far superior show by nearly every measure."
However, Terri Schwartz on Zap2it.com finds that some of the sex scenes in the series are worth talking about. He writes "there's one sequence in particular in episode 5 that is so jaw-droppingly weird and awesome that it's already one of the most standout moments of Season 1."