Fifteen beautiful, unusual and fascinating medieval manuscript images we found on Twitter this week:
"Medieval post-it note" on a Cyrillic manuscript. University of Chicago. Photo: Quinn Dombrowski pic.twitter.com/v9W6mVUI6E

— ✍ Bibliophilia (@Libroantiguo) September 8, 2014
Monkey-business in medieval manuscript margins, by new @BLMedieval intern Holly http://t.co/0GhXzwzeyE (Stowe MS 17) pic.twitter.com/dqbckh9itl — James Freeman (@Dr_J_Freeman) September 15, 2014
Last weekend to see "Seeing Music in Medieval Manuscripts"! Catch it before it closes: http://t.co/lLc435IUSz pic.twitter.com/IynU27ibWN

— Walters Art Museum (@walters_museum) September 12, 2014
The city of #Baghdad. From a medieval illustrated manuscript. #Iraq pic.twitter.com/PjCqBvsDWf — RAED (@Raed_Saa) September 12, 2014
Medieval DIY: patching up the page (NYPL Plimpton MS 195). pic.twitter.com/RDpFkJ5BxK

— Erik Kwakkel (@erik_kwakkel) September 15, 2014
"Medieval selfie" Oldest known self-portait of a mdieval illuminator. Bodleian Library, mS. Bodl. 717, 11th century. pic.twitter.com/LqCEtF3SJF — ✍ Bibliophilia (@Libroantiguo) September 5, 2014
the clone tended the pods…soon the invasion of the bodysnatchers would be complete. http://t.co/gpCFen5Q3q pic.twitter.com/VdKs9fLzhX

— Tudor Cook (@tudorcook) September 15, 2014
Renaissance hedgehogs Estense Library: Lat. 422-423 = V.G.12-13 http://t.co/gVvRkYCikD pic.twitter.com/WDpjpCidok — bxknits (@bxknits) September 15, 2014
Angry bats, 'Northumberland Bestiary', London ca. 1250-1260 (LA, J. Paul Getty Museum, MS. 100, fol. 37r) pic.twitter.com/zCsamkQeUM

— Discarding Images (@discarding_imgs) September 12, 2014
Medieval logic: with so many virtues it is nearly impossible to sin (Table of Virtues, BL Harley 3396). pic.twitter.com/F8v1wNuNUh — Erik Kwakkel (@erik_kwakkel) September 11, 2014
Compendium of cosmographical knowledge, a scientific textbook for monks (1190) http://t.co/k9LXUbBm6v @walters_museum pic.twitter.com/xGvKFKP2vg

— WorldDigitalLibrary (@WDLorg) September 15, 2014
Ex Tumblr: http://t.co/tavYuhiyQt heaveninawildflower: Full page miniature of grape gathering with treading … pic.twitter.com/8OCVsJKXHF — Sexy Codicology (@SexyCodicology) September 14, 2014
War of the Roses – Ladies throwing flowers at knights attacking their castle (@BLMedieval, Luttrell Psalter, 14th c.) pic.twitter.com/gL3JfDyyPT

— Damien Kempf (@DamienKempf) September 7, 2014
Ice Bucket Challenge in Heaven? No, Angels of Apocalyps pouring out their vials of god's wrath. @bsb_muenchen Cgm8010 pic.twitter.com/iXUj8PCQl6 — Johan Oosterman (@JohanOosterman) September 13, 2014
Bunny Demon is sad, bc he's the only #marginalia in the whole #manuscript @bodleianlibs Digby184 #MarginaliaMonday pic.twitter.com/a6mjrML86e

— Damian Fleming (@IPFWMedieval) September 15, 2014
Please also check out these recent blog posts:
Apes Pulling Shapes – from the British Library
Medieval Supermodels – by Erik Kwakkel
Introducing Beinecke MS 1184: The Olivetan Gradual – from Yale University Library
A Renaissance Masterpiece in Miniature – by Jenni Bick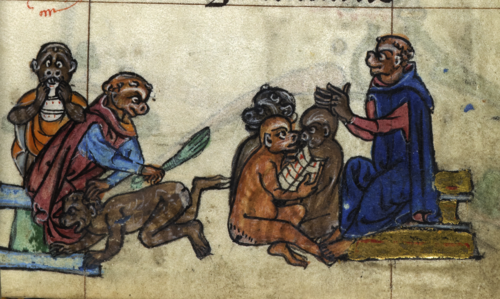 ✉Sign up for our weekly email newsletter!