Medievalism, the Beautiful Book, and the Arts and Crafts Movement
By Jerry D. Meyer
Caxtonian: Journal of the Caxton Club, Vol.17:6 (2009)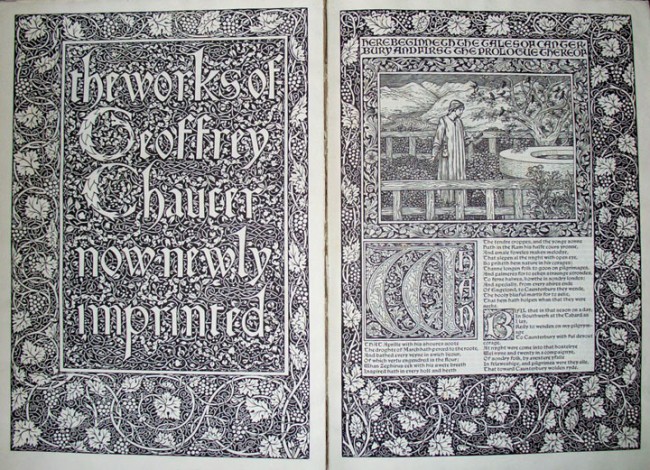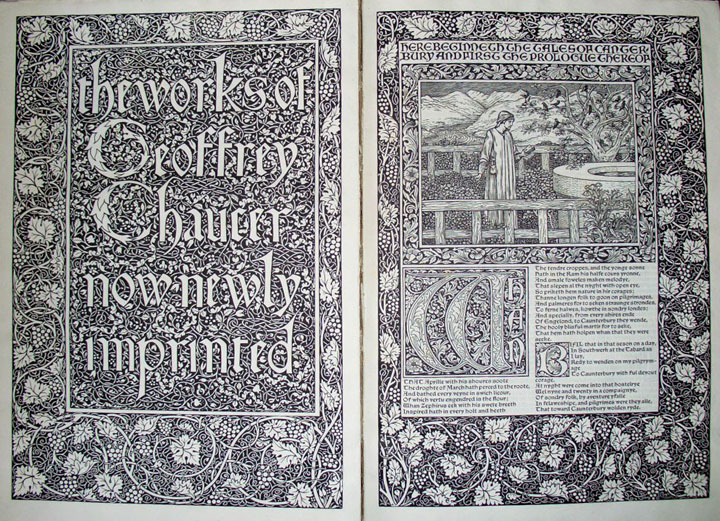 Introduction: As most bibliophiles will attest, there is a tangible, even tactile quality, and an emotional appeal (however diverse) in addition to any intellectual properties in the physical existence of a fine, visually interesting, or rare book. To the generation of young people coming of age in the twenty-first century with their love of BlackBerry devices, pervasive Internet communications, and other means of instant electronic gratification, this love of the handheld book may seem a particularly nostalgic, even superfluous excess. And perhaps our love of the physical properties of books is in some respects arcane. But for me as for many others, there are numerous reasons to justify collecting and loving books (as one might collect any beautiful object), among them the quality of the paper (especially if it is handmade), the design of the type and text, an interesting cover or binding, the incorporation of intriguing illustrations or embellishments, and, of course, any historical significance (dare I add the attribute of a certain mustiness in older materials?).
Such qualities may induce in the bibliophile all sorts of irrational palpitations of the heart and soul along with an often irrational desire for ownership. For me as an art historian there is the added intrigue of investigating the particular stylistic threads that lie behind a book design or its illustrations: what sociologic and artistic influences motivated the designer or designers of the publication to pursue the direction they did.
My objective here is to examine briefly the influence of Medievalism on the emergence of the concept of the beautiful book in the Arts and Crafts movement, first in England and then its impact in publication design in the United States in the late 19th and early 20th centuries. In all but two instances, I will reference books in my own collection for illustrating examples.
Click here to read this article from Caxtonian: Journal of the Caxton Club