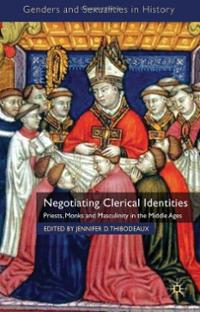 Promiscuous Priests and Vicarage Children: Clerical Sexuality and Masculinity in Late Medieval England
By Janelle Werner
Negotiating Clerical Identities: Priests, Monks and Masculinity in the Middle Ages, edited by Jennifer D. Thibodeaux (Palgrave Macmillan, 2010)
Introduction: In 1501, a vicar named Roger Homme was summoned to appear before the church court of the diocese of Hereford. The judge charged him with sexual incontinence, alleging he had sex with Isabel Herford, a married woman from a neighboring village. Depsite Roger's vow of chastity and Isabel's marital status, theirs was no casual relationship. According to the charge, the two lovers behaved as husband and wife: 'Sir Roger Homme, vicar of Canon Frome, is incontinent with Isabel Herford, wife of James Herford of Munsley, whom he holds [and] from whom he produced a child, as if he has married her.'
Roger Homme and other priests who had either brief affairs or longer, marital-like relationships with women expose a neglected issue in the history of the late medieval clergy. Historians, assuming that priests complied with the ecclesiastical mandate of celibacy, have downplayed clerical sexuality and its ramifications for clerical masculinity. Because the standard markers of lay masculinity – sexual virility, skill in combat and heading a household- were unavailable to them, celibate priests, the argument goes, carved out new ways of being masculine. Unchaste priests were probably in the minority, but they constituted a visible element of the priesthood, especially among the parish clergy. After all, who in the small, remote village of Canon Frome could have been unaware of Roger's relationship with Isabel? It may seem like common sense that all priest were not always celibate, but this overlooked aspect of clerical life has implications for conceptions of clerical identity and masculinity.
Historians continue to debate the the full extent to which priests had relationships with women, but unchaste clergy on the European Continent have been more forthrightly acknowledged and studied than those in England. Most scholars agree that fornication and concubinage were relatively common, perhaps particularly in the Low Countries, France, Germany, Spain and Italy. English thinkers, however, have long looked across the Channel and perceived themselves as different. Defending English clerics against criticism, Thomas More asserted:
But yet for that I have myself seen and by credible folk have heard, like as you say by our temporality, that we be as good and as honest as anywhere else … the secular clergy is in the learning and honest living well able to match and … far able to over-match number for number the spirituality of any Christian nation.
Click here to read this article from Academia.edu