The Voices of the Saints: Speaking Reliquaries
By Cynthia Hahn
Gesta, Vol. 36, No. 1 (1997)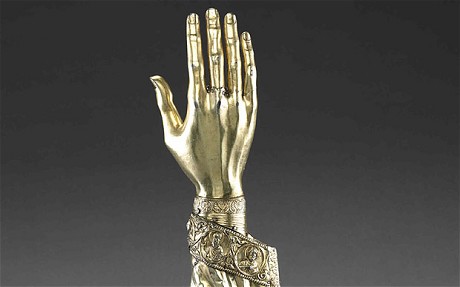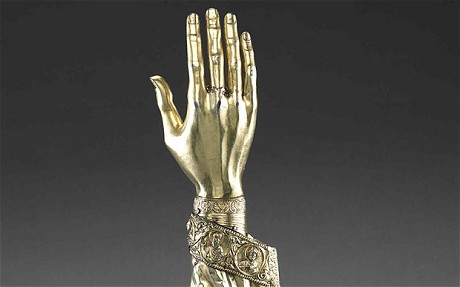 Abstract: Although they have often been considered as mere representational labels identifying the relic contained, body-part reliquaries, or what I would prefer to call shaped reliquaries, participate in a fluid exchange of signs, "speaking" much more than their contents. First, they often do not contain what they seem to say they contain. Second, their speech is complexly metaphorical.
Third, in that both function primarily as metaphor, there is a peculiar slippage of meaning and importance between contained and container. Fourth and finally, shaped reliquaries of body parts signify specifically through the implied fragmentation of the relic-body, in this way insisting upon a larger whole. Such fragmentation was a problematic but powerful new discourse in the central Middle Ages.
Germans designate shaped reliquaries as "redende Reliquiare," but what do so-called "speaking reliquaries" say? Apparently, like the thirteenth century reliquary arm of Peter, they are usually thought simply and plainly to speak their contents. As one recent catalogue put it, "the form of the reliquary assumed the shaped of its relic…feet, fingers, hands, legs, and heads."
But it this true? We must ask: if relics are contained in simple representations of a reconstituted body part, where the spines and hipbones?, the ankles and clavicles?, the left arms? I contend that, rather than speaking their contents, such reliquaries speak most loudly about other concerns – concerns about function rather than content.
Click here to read this article from the University of Texas