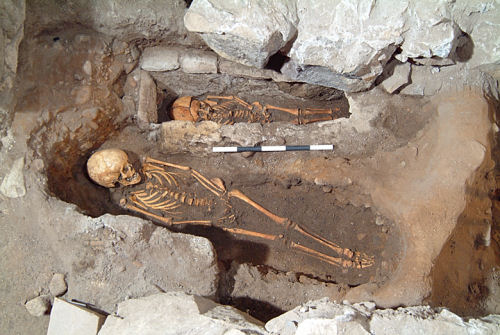 Magic for the dead? The archaeology of magic in later medieval burials
Roberta Gilchrist
Medieval Archaeology, Vol.52 (2008)
Abstract 
This paper examines patterns in the placement of apotropaic objects and materials in high- to late-medieval burials in Britain (11th to 15th centuries). It develops an interdisciplinary classification to identify: (1) healing charms and protective amulets; (2) objects perceived to have occult natural power; (3) 'antique' items that were treated as possessing occult power; and (4) rare practices that may have been associated with the demonic magic of divination or sorcery. Making comparisons with amulets deposited in conversion-period graves of the 7th to 9th centuries it is argued that the placement of amulets with the dead was strategic to Christian belief, intended to transform or protect the corpse. The conclusion is that material traces of magic in later medieval graves have a connection to folk magic, performed by women in the care of their families, and drawing on knowledge of earlier traditions. This popular magic was integrated with Christian concerns and tolerated by local clergy, and was perhaps meant to heal or reconstitute the corpse, to ensure its reanimation on judgement day, and to protect the vulnerable dead on their journey through purgatory.
Introduction: Archaeologists have been reluctant to consider how medieval people expressed supernatural and spiritual beliefs through the material practices of life and death. A rare contribution on this theme was Ralph Merrifield's The Archaeology of Ritual and Magic, in which he diagnosed a 'ritual phobia' among historical archaeologists. With the advent of a more scientific, processual archaeology in the 1970s and 1980s, the study of magic — with its superstitious and folkloric connotations — was relegated to the archaeological fringe. The topic has retained some currency in the study of conversion-period burials of the 7th to 9th centuries, although even in this context magic has been dismissed as superstitious ritual, rather than examined in relation to sacred beliefs. Archaeological perceptions of magic are a legacy of early anthropology: magic was regarded as 'primitive' or 'exotic', engaged in by individuals who sought practical solutions, in contrast with the more mystical and collective nature of organised religion. It may be that archaeologists studying the Middle Ages have found the juxtaposition of magic and Christianity particularly difficult to interrogate, based on the false assumption that these are mutually exclusive categories comprising marginal superstition on the one hand versus formalised religion on the other.
Click here to read this article from the University of Reading
✉Sign up for our weekly email newsletter!