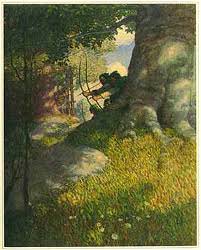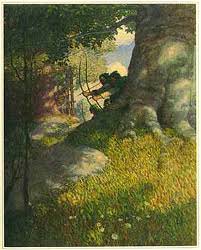 Deception and Impersonation in the Robin Hood Tradition: A Comparison of Medieval and Nineteenth-century Approaches
By Lucas Mikael Darche Aykroyd
MA Thesis, University of Victoria, 1997
Abstract: Deception and impersonation are constant themes in the Robin Hood tradition. However, medieval and nineteenth-century approaches to these themes are different. In medieval English ballads, trickery by the outlaw hero and his supporters embodies a subversive attitude toward hierarchical authority, depicted as corrupt and unjust to gratify a plebeian yeoman audience. Acts of deception furnish anti-authoritarian commentary on political, economic, and religious issues. But from 1500 to 1800, a change occurs. Deception and impersonation in ballads and plays become conventional attributes of the outlaw persona. Marketed to a broader audience, Robin's character is increasingly submissive to hierarchical authority, and his deceptions are not relevant to contemporary social concerns. In the nineteenth century, Robin is a fun-loving gentleman in fancy dress. Novels and plays portray him as a romantic, conservative, patriotic hero who plays tricks for entertainment. This transformation of Robin Hood is among the most remarkable threads in his legend.
Click here to read this thesis from Library and Archives Canada
✉Sign up for our weekly email newsletter!